(UPDATED) Abe is scheduled to meet with President Aquino 'to discuss bilateral cooperation and regional issues'; Stop part of 3-nation trip in ASEAN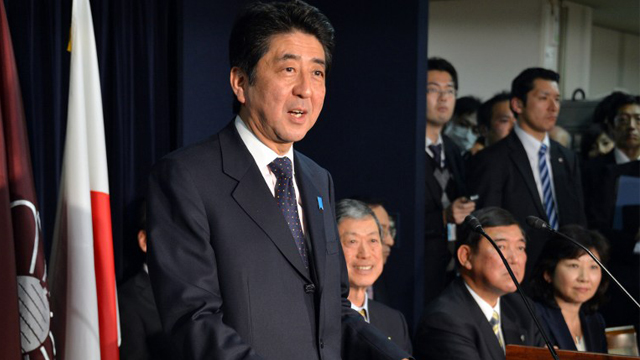 MANILA, Philippines (UPDATED) – Japanese Prime Minister Shinzo Abe is scheduled to visit the Philippines later this week, the Department of Foreign Affairs (DFA) said Monday, July 22.
Abe's official visit will be on July 26 to 27, and he is scheduled to meet with President Benigno Aquino III "to discuss bilateral cooperation and regional issues, and further advance the Strategic Partnership between the Philippines and Japan."
The visit is part of a three-nation tour, which will start on the 25th, Chief Cabinet Secretary Yoshihide Suga said in a press conference in Tokyo.
"Mr Abe, if the situation allows, will make an official visit to 3 countries, namely Malaysia, Singapore, and the Philippines, from Thursday, 25th to Saturday, 27th of July, in order to have summit meetings in the respective countries," Suga said.
"This is going to be the third visit to Southeast Asian countries [this year] in order to further enhance our bilateral relationships, and to enhance ASEAN-Japan relationships, which [we] commemorate the 40th anniversary this year," Suga said.
He is also scheduled to meet US Vice President Joe Biden in Singapore.
Japan was the country's top trade partner and aid provider in 2012, the DFA said.
"The last time that the prime minister of Japan visited the Philippines was in December 2006 when Prime Minister Abe visited Manila during his first term as the head of the Japanese Government," the DFA noted in a press statement.
The Japanese premier has just won in Japan's upper house elections Sunday, July 21.
Abe's Liberal Democratic Party won 65 of the 121 seats being contested, with its junior partner New Komeito securing 11, Kyodo News reported. The country's main opposition party, the Democratic Party of Japan, won just 17 seats. – KD Suarez, with reports from the Agence France-Presse/Rappler.com