The goal of the Manila bus ban is to decongest the city's traffic. But along Taft Avenue, where a number of schools are located, students say nothing much has changed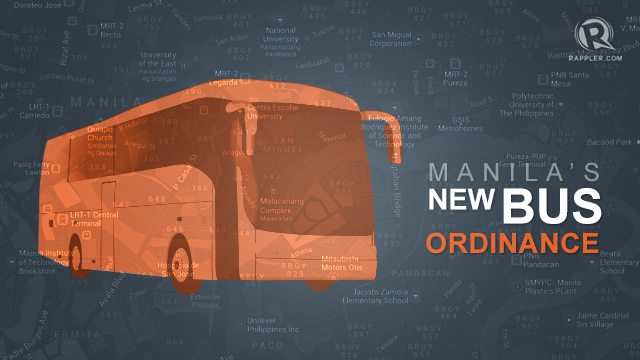 MANILA, Philippines – Kylie Licudine used to take only two rides from her home in Las Piñas to her school in Manila. A tricycle brought her to the bus stop, and then a bus dropped her off across the street from De La Salle University's gate on Taft Avenue.
In the last 4 days, however, she had been taking more than two rides and experimenting with other routes to take. Manila's ban on buses that do not have terminals in the city took effect on Tuesday, July 23.
Buses from south of Manila that don't have terminals in the city are allowed only up to Buendia Avenue. Unfortunately for Licudine, no buses in their area have terminals in Buendia.
So she gets off further at the World Trade Center, where she has to take a tricycle back to Buendia, and then take a jeepney to La Salle.
Her P250 daily allowance used to be enough, with P92 spent on fares. With the bus ban, she now shells out an extra P41.
Manila City Vice Mayor Isko Moreno acknowledged that commuters from outside Manila are greatly affected by the bus ban, but it caters to the welfare of the majority of Manilans.
Outsiders, he said, should just change their commuter habits, he said in a press briefing on Thursday.
Asked about students' complaints of having to take additional trips – and consequently have additional expenses – he seemed to be unaware of it.
"[Nadadagdagan] 'yung biyahe, hindi 'yung gastos," he said. (There are additional trips, not additional expenses.)
Less traffic?
On Thursday, Moreno showed reporters, through newly-installed CCTV cameras in 8 major intersections in Manila, how traffic improved noticeably.
Along Taft Avenue, however, students said nothing much had changed.
"Parang wala pong nangyari, nagta-traffic pa rin naman po. Pinapahirapan lang niya 'yung mga tao," Licudine said. (It seems like nothing has changed. Traffic is still bad. They're just making things inconvenient for people.)
Moreno said the remaining public utility vehicles – jeepneys, FXs, taxis, tricycles, and the Light Rail Transit (LRT) 1 – are more than enough to accommodate commuters that buses cannot service.
But the scene in the LRT was different during rush hours. Commuters go through long lines and jampacked coaches to get to school and offices.
According to IJ Cacnio, another La Sallian, an advisory from the Office of the Mayor was plastered on buses enroute to Manila a day before the ban started but it was not noticeable and did not attract attention.
READ: Bus ban: Moreno says Manila didn't need to consult LTFRB
"Di kami naapektuhan sa pros [ng bus ban] e. Kahit ma-lessen 'yung traffic, hindi na naman kami dun sasakay," Cacnio said.
(We are not affected by the pros of the bus ban. Even if the traffic is lessened, we're not going to ride [the light vehicles made available] anyway.)
Metro Manila summit
Moreno urged Manila's neighboring cities to consider implementing the same ordinance in their jurisdictions, saying it only takes political will to do it.
Senate President Pro Tempore Ralph Recto said it should prod Metro Manila mayors, as well as heads of national government agencies concerned, to sit down and discuss.
In a summit, he said, traffic, flooding, and Metro Manila's "other interlocking problems" can be discussed.
"There are management collaboration issues in an area where operations of 17 local governments sometimes overlap with the work and mandate of national government offices," Recto said.
He cited how the Metropolitan Manila Development Authority does not know how many bus franchises the LTFRB has given those enroute to EDSA.
He also echoed Moreno's sentiment that the LTFRB does not consult local governments in giving franchises.
Alternatives
Meanwhile, Licudine from Las Piñas said she can only go through the hassle brought about by the bus ban for one more week. After that, she may have to look for a dormitory along Taft, or be dropped off and fetched from school every day by their car.
Either way is too expensive for her family.
If she had a say, she wants the bus ban to be set aside. Maybe it will be better for Manila to just give certain bus lines alternative routes.
Earlier on Friday, July 26, there were reports that Mayor Joseph Estrada had allowed city buses to enter Manila as long as they loaded and unloaded passengers at the designated areas.
Moreno, however, told Rappler in a text message that this is not true. – Rappler.com