They will help boost maritime security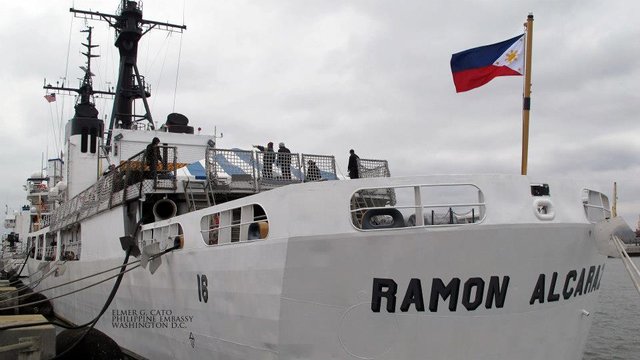 MANILA, Philippines —
Two weeks from now, August 3, warship 
BRP Ramon Alcaraz (PF-16) is expected to arrive in the Philippines. It is the country's second Hamilton class cutter and will be deployed within the country's exclusive economic zone for maritime security and sovereignty patrols. 
Helicopters that will support the warship will also arrive in December. The first batch of 
3 Augusta 109 helicopters will be delivered. It will work in "tandem" with Alcaraz and BRP Gregorio Del Pilar, the country's other warship.
The Philippines accused China of "massive"
military buildup at sea
. The United Nations' International Tribunal for the Law of the Sea has begun to hear the Philippines' case against China.
Navy chief Vice Adm Jose Luis Alano said Alcaraz and the helicopters will 

"help greatly."
"It's part of the total system that we're using in terms of our maritime security. This forms part of the Navy's strategy to secure our territory through the active archipelagic defense strategy that we are currently formulating," Alano 
said.
"The first part of it is maritime situational awareness, which requires vessels like the
Del Pilar
and
Alcaraz
to be able to go out there and be aware of what is happening around us," Alano added.
Acquired for P600 million, the BRP Alcaraz is the second Hamilton class cutter from the US. Del Pilar was commissioned in December 2011. 
In 2012, it
 was involved in the 
Scarborough Shoal standoff
.
Alcaraz and Del Pilar are capable of conducting patrols for long periods of time. It can also withstand heavy weather and rough sea conditions.
Meanwhile, Alano said the crew of the Augusta 109 helicopters are training in Italy to get the necessary qualifications. 
"They will be part or the extension of the vessels to increase their capability for maritime surveillance," Alano said. "Helicopters will extend the range of our awareness because we have a very large area to cover," he added.
The Philippine Navy is also planning to buy two frigates although the defense department has yet to hold a bidding for the procurement. It has an allocation of P18 billion. "It's in the process now. We are coming up with the final documents for bidding," Alano said. – Rappler.com