Manila discovers that bus companies duplicate the franchise for one bus for the use of many, thus the overwhelming number of buses plying the city's streets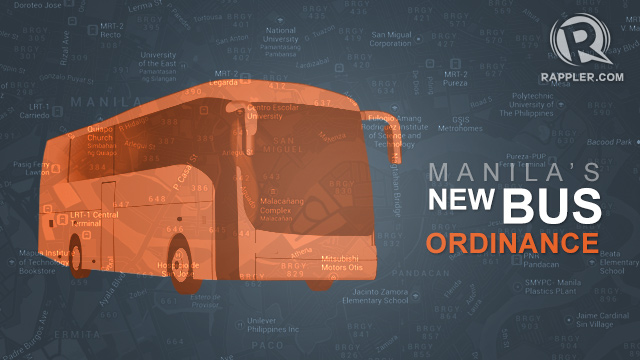 MANILA, Philippines – The city of Manila will modify its bus ban starting Monday, July 29, allowing select bus lines and limited units to ply the streets even if they do not have terminals within the city yet.
The drift from the total ban on buses without terminals will stay until the city government and the Land Transportation Franchising and Regulatory Board (LTFRB) have sat down to weed out buses that are using "duplicate" franchises.
So starting July 29, buses without Manila terminals but with valid franchises from the LTFRB may enter the city to load and unload in areas in very few bus stops designated by the city government.
Only 10 buses from each franchise holder will be allowed in Manila's streets.
For now, buses that are southbound coming from Quezon City may only load and unload passengers in the following points:
University of Santo Tomas

Multi-Modal Terminal

Luneta
Meanwhile, eastbound buses from Vito Cruz will only be allowed to stop at these points:
Quirino-Taft Avenue

Luneta-Taft Avenue

Park & Ride Terminal

University of Santo Tomas
Vice Mayor Isko Moreno told Rappler in a phone interview that they will stricly implement a closed-door policy on buses – buses will not be allowed to open their doors in between bus stops.
Solving another problem 
The ban on buses without terminals solved the traffic problem, Moreno said. Now, they are modifying it to solve "another problem [that] arose" from it: "foot traffic."
"Naawa naman kami, lalo na [sa] mga estudyante (We pity [the commuters], especially the students). We try to be sensitive enough," he said. 
READ: Manila bus ban: How are students coping?
But Manila is "really serious" about clearing its streets of illegal buses, Moreno said.
Before the bus ban, about 1000 buses ply Manila 3-4 times a day.
When they started implementing the total ban last week, buses supposedly with franchises but without terminals started complaining with the LTFRB.
READ: Bus ban: Moreno says Manila didn't need to consult LTFRB
The city government found out: "1000 buses ply Manila on a daily basis. Ganito ba talaga karami ang ibinigay na prangkisa ng LTFRB?" he said. (1000 buses ply Manila on a daily basis. Did LTFRB really give out this much franchises?)
When the city government checked on them, it turned out only 166 have terminals within Manila. 
They discovered that companies that operate several bus lines only photocopied the franchise given to one line and used them for all the other lines.
"Meron kasing ugali itong mga operator na may prangkisa sila, [tapos] kinokopya nila, pinapalusutan nila," the vice mayor said. (These operators have a habit of copying a single franchise for multiple buses.)
To prevent the buses from using borrowed franchises, every bus will be required to place a signboard bearing the vehicle's plate number, body number, and the tagging number issued by the Manila city government.
The signboard must have Vice Mayor Moreno's signature to prevent bus operators from faking or duplicating even the city hall-issued tagging number. – Rappler.com