Subic is the 'best alternative,' the defense department says, because as a former US base, it has facilities that can accommodate warships and additional helicopters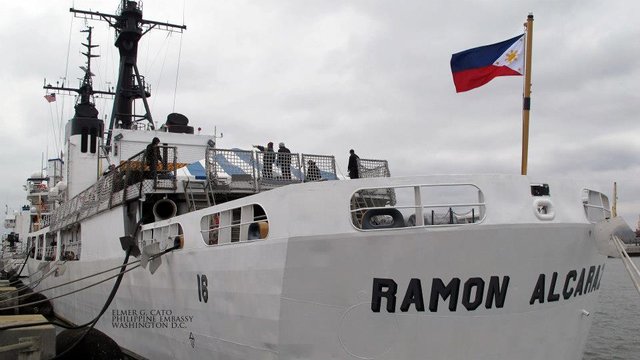 MANILA, Philippines – While acknowledging that maritime dispute with China triggered the plans to move the Air Force and Navy camps to Subic, the defense department said other "events" also became a factor.
An Associated Press report earlier quoted Defense Sec Voltaire Gazmin as saying the move to the Subic Bay Metropolitan Authority (SBMA), a former American naval base in Zambales, would be "for the protection of the West Philippine Sea." 
The plan was reportedly hatched "late last year" as the Philippines was caught in a row with Beijing over the South China Sea (West Philippine Sea).
READ: PH warns China against Ayungin. It is ours and PH wants to give US, Japan access to bases
Citing a confidential government report, the AP said it will cost at least P5.1 billion. 
Aside from the situation in the West Philippine Sea, "there are events that triggered all these," Department of National Defense (DND) spokesman Peter Galvez told reporters on Monday, July 29.
The plan to decongest the Ninoy Aquino International Airport (NAIA) was among the triggers. 
"Sangley Point will be controlled by the Civil Aviation Authority of the Philippines (CAAP) – the runway and the facilities. I believe private aircraft will be transferred there from NAIA," Galvez said.
Galvez said there is "no definitely timeline yet" but Department of Transportation and Communications (DOTC) Sec Joseph Emilio Abaya said "we're looking at roughly two years" to implement the plan for CAAP to take over Sangley Point. 
READ: No more private planes in NAIA by 2015
Galvez also noted the proposed commercial expansion in Clark.
Subic is the "best alternative," said Galvez because it has existing facilities that can accommodate the country's warships and additional helicopters due to arrive. 
"With all those things, the best alternative that we saw was Subic because of its existing facilities. It has a deepwater port for our two Weather High Endurance Class Cutters from the US," he said. 
"We also have in the pipeline aircraft that will be arriving. There's also an existing runway in Subic. We don't have to replicate those. This is savings for our armed forces," Galvez said.
READ: Navy warship arrives in August, helicopters in December
The DND is studying where it can source the funding for its plan to relocate the Air Force and Navy camps to Subic.
Galvez said they are studying if the funding should be sourced from the P75-billion fresh modernization plan. "It has specific items already in there so we'll look into it — if it will be there or it will be outside. That will part of the study," Galvez said.
The House of Representatives is scheduled to begin in August deliberations on the 2014 budget.
He said it is also cost-efficient to move air force and navy camps to Subic because of the existing facilities.
"It's a very strategic location to address whatever issue there may be in the west side of our country," Galvez said.
"We can ensure maritime domain awareness in those areas. It's a strategic location in terms of  transit considerations and for operational considerations for ships and aircraft," he added. – Rappler.com