Even the target number of new classrooms for next year is the biggest in history as DepEd prepares for senior high school in 2016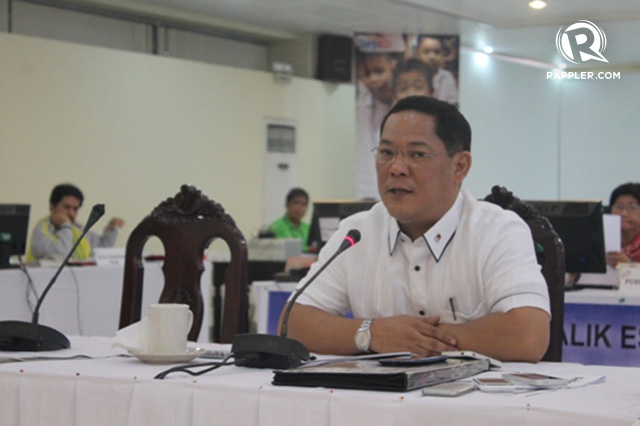 MANILA, Philippines – The Department of Education (DepEd) marked the proposed 2014 basic education budget as its biggest budget allocation in history.
Education Assistant Secretary Jesus Mateo on Tuesday, July 30 said the P335.4 billion allotted by the Department of Budget and Management's (DBM) National Expenditure Program increased from the proposed P334.21 billion.
The budget also increased 14.4%, or 42.1 billion more than this year's P293.3 billion budget allocation. The increase is focused on learning resources, as well as classrooms, chairs and school facilities.
READ: 2014 budget focus: DepEd, DPWH, DILG
More classrooms, libraries
Even the target number of new classrooms for next year is the biggest in history, Mateo confirmed with Rappler.
Senate President Pro Tempore Ralph Recto earlier said the number of "rooms to be built…is by far the biggest in history."
Next year, Mateo said, 43,183 new classrooms will be built to respond not only to increments posed by a new school year, but also to the need of the K to 12 program's senior high school curriculum.
The department will start preparing for the first batch of Grade 11 or Junior High School students in 2016 as early as next year.
Aside from the new classrooms, 9,502 existing ones will be repaired, and 1.59 million new classroom seats will be created.
Mateo added that 10 library hubs will be "constructed, furnished and given books in 2014", in addition to 213 existing ones in the country.
Competent teachers
For 2014, 33,194 new teachers and 1,500 new teaching-related staff will be hired by the department.
Recto said he hoped the department would use "competence and not connection" in hiring new teachers.
But Mateo said this has been their practice since 2012, when they tightened the hiring policy as per DepEd Order No. 12 series of 2012.
DepEd's budget falls under the "education, culture and manpower" sector, along with Technical Education and Skills Development Authority (TESDA) and state universities and colleges (SUCs).
This sector has been alloted a budget of P389.5 billion for 2014.
Recto said the budget will close manpower and equipment gaps in public schools, in a bid to "[catch] up with existing backlogs and [frontload] for future needs." – Rappler.com