The release order for the supposed P3 billion was addressed to the DPWH central office and had 'no mention of Zamora or his district,' says Speaker Belmonte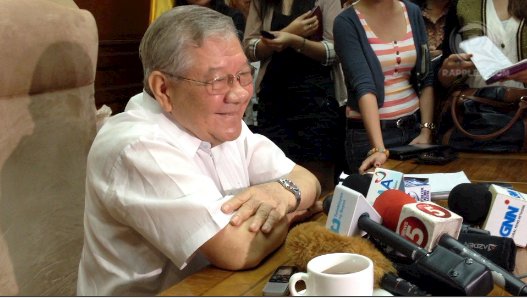 MANILA, Philippines – P3 billion in pork barrel for just one congressman in a year? State auditors must be mistaken.
This is how Speaker Feliciano Belmonte Jr defended former Compostela Valley congressman and now Vice Governor Manuel "Way Kurat" Zamora after the Commission on Audit tagged him in this supposedly anomalous allocation.
A COA special audit of the pork barrel releases between 2007 and 2009 shows Zamora got P3.114 billion of pork barrel for infrastructure projects and 94.6 million for non-infra projects. The bulk of P3.034 billion was allocated in a single year, 2007. 
The COA report reads: "As disclosed in the summary of releases provided to the Team by the DBM, releases of P3.000 Billion under SARO No. A-07-095396 to DPWH-CO was intended for the implementation of projects nationwide identified by Representative Manuel E. Zamora of the 1st District of Davao Del Norte."
Zamora, who gained fame for his simplicity when he was a congressman – like biking to work at the House of Representatives – denied the report.
The special COA report details how lawmakers have disregarded rules to allocate excessive funds to their projects. It also shows questionable implementation of various projects by NGOs chosen by the lawmakers themselves. 
No mention of Zamora in SARO
Belmonte said he was shown copies of the Special Allotment Release Order (SARO) that indicates COA must have committed an error. 
"Somebody gave a copy of the SARO in question and it's addressed to DPWH central office for nationwide maintenance of roads, highways, and bridges. No mention of Zamora or his district," Belmonte told Rappler in a text message late Sunday evening, August 18. 
"I also talked to Zamora personally and he says he knows nothing of it and got nothing from it. I believe him. He is just an ordinary Joe, now vice governor," Belmonte added.
In his speech at the opening of the 16th Congress on July 22, Belmonte called on his fellow lawmakers to exercise prudence in spending their pork barrel.
Former Budget Secretary Rolando Andaya, who is now vice chair of the House committee on appropriations, also thinks there was a clerical error that misled the COA.
Andaya told reporters it must have been a clerical error. He said the P3 billion may have been attributed to Zamora because the projects were implemented in his district, but it was actually public works fund for national implementation. 
Andaya said he is willing to work with COA to thresh out details of the special audit. – Rappler.com