What's the fuss over Scarborough, or Panatag Island? 10 things you need to know.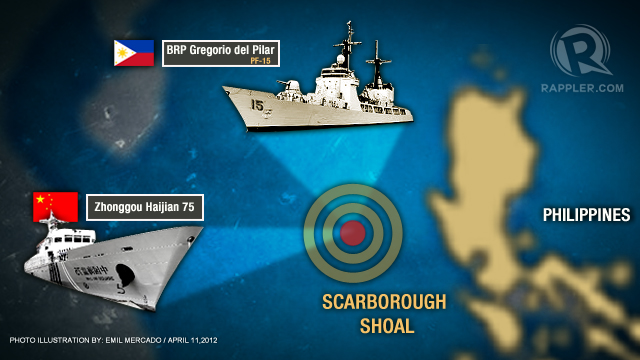 Here are 10 things we all need to know about the disputed Scarborough Shoal, now the site of a standoff between Manila and Beijing.
1. First, the Philippine government does not call it Scarborough. Based on recent government press releases, its Pinoy name is Panatag Shoal, which ironically means calm. In the 2009 Philippine Baselines Law, it is referred to as Bajo de Masinloc.

2. It's really just a rocky sandbar, but its location holds huge political and economic significance. Located in the South China Sea, it is a strategic staging area for military operations. As if that's not enough enticement, scientists are also optimistic about the area's potential oil resources.
3. Don't confuse it with the Spratlys Islands located off the coast of Palawan. Incidentally, the government refers to the portion of the Spratlys it is claiming as the Kalayaan Island Group (KIG).
4. The Panatag Shoal and the Kalayaan Island Group are both located in the South China Sea. The Philippine government has already renamed the South China Sea to West Philippine Sea. (Vietnam calls it the East Sea.)
5. The Philippines bases its claim on discovery, occupation and administration. The Philippines controls Panatag Shoal and also 8 of the islands in the Kalayaan Island Group. China, according to most media reports, is claiming the whole of the South China Sea and also controls several islands in the Kalayaan Island Group. Filipino diplomats however insist that China has not been explicit about what waters it is claiming.

6. A total of 6 countries are laying claim to various areas in the West Philippine Sea—Philippines, China, Vietnam, Taiwan (not recognized by countries that adopt a one-China policy), Malaysia, and Brunei.

7. The controversial Republic Act 9522 or the 2009 Philippine Baselines law treats the Panatag Shoal and the Kalayaan Island Group as "regime of islands under the Republic of the Philippines."

8. Citing old maps, University of the Philippines College of Law professors petitioned the Supreme Court to declare R.A. 9522 unconstitutional because it results in the loss of 15,000 square nautical miles of territorial waters. It also supposedly weakens the country's claim over the disputed islands. But the Supreme Court junked the petition and declared R.A. 9522 constitutional.
9. The Baselines Law enacted in 2009 defines the archipelagic baselines of the country as those around the main archipelago and, invoking Article 121 of the United Nations Convention on the Laws of the Sea (UNCLOS), claims a part of the Spratlys and all of what is referred to as Panatag Shoal.

10. In 2002, the Asean-China Declaration on the Conduct of Parties in the South China Sea (DOC) was signed in Phnom Penh. It envisions, among others, the formulation of a Code of Conduct, which has yet to happen. – Rappler.com

[Editor's note: In an earlier version of this story, we erroneously wrote that the legal basis for our claim is proximity. Diplomats have pointed out our error, which we are correcting in this version. The basis for our claim is discovery, effective occupation, and administration. We apologize for the error.]