China tells the Philippines to withdraw its vessels from disputed waters amid a naval standoff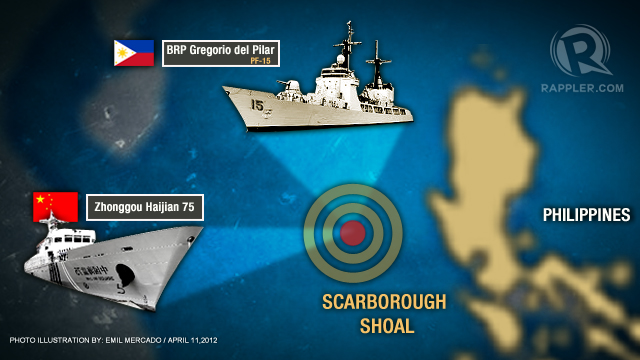 MANILA, Philippines – China urged Philippine vessels to withdraw from Scarborough Shoal amid a naval standoff in the disputed South China Sea.
The state-run Xinhua news agency attributed the statement to China's Foreign Ministry spokesman Liu Weimin on Thursday, April 12.
Liu said China dispatched official "law-enforcement ships" that are on their way to the scene. He clarified that these were not naval ships.
He said the ships intend to safeguard the safety of Chinese fishermen and vessels. He defended the Chinese fishermen, saying they were doing "legitimate fishing activities." 
The spokesman also said that China has been maintaining communication with the Philippines via diplomatic channels. He reiterated that Beijing hopes the incident "will not be further aggravated."
'Work in progress'
Foreign Secretary Albert del Rosario has been tight-lipped about negotiations with China, calling them "work in progress."
The impasse began when a Philippine warship, the BRP Gregorio del Pilar, tried to detain Chinese fishermen but was stopped by 2 Chinese surveillance vessels.
Del Rosario said the Chinese fishermen engaged in illegal fishing and harvested endangered marine species.
The Chinese embassy in Manila though said the fishermen were fulfilling their duties of "safeguarding Chinese maritime rights and interests." It said the boats took shelter from a storm in the lagoon. China accused Filipino soldiers of harassing the fishermen. 
Both Manila and Beijing claim Scarborough Shoal as an integral part of their territories.
The Philippines calls it Panatag Island while China refers to it as Huangyan Island.
PH warship pulled out
Earlier Thursday, the Philippines pulled out the BRP Gregorio del Pilar from the disputed waters. Del Rosario said it was an "operational undertaking" that he cannot discuss with media.
The BRP Gregorio del Pilar is the Philippine Navy's fastest ship, bought from the US last year for US$13-M. (Read more about the ship here.)
Philippine Navy chief Vice Admiral Alexander Pama told Rappler the warship will be refueled and reprovisioned.
A senior Philippine military official however said the pullout might have been intended to ease the tension.
The Philippine military said a coast guard search-and-rescue boat was left in the disputed waters. Another coast guard vessel, a civilian ship, is expected to make its way to the area.
The Philippine Coast Guard is under the Department of Transportation and Communications.
Resolution soon? 
Del Rosario said he wanted the standoff resolved before he goes on a trip to the US this weekend.
Philippine President Benigno Aquino III has said he hopes the impasse will be resolved peacefully but said the Philippines will protect its sovereignty.
Manila has lodged a diplomatic protest over the incident.
Besides China and the Philippines, Taiwan, Malaysia, Brunei and Vietnam have competing claims over areas in the South China Sea, believed to contain huge deposits of oil and gas.
Beijing claims almost the whole South China Sea on historical grounds.
The Philippines stressed however that Scarborough Shoal is part of its territory, citing the United Nations Convention on the Law of the Sea. Manila said the shoal is within its 200-nautical-mile Exclusive Economic Zone and Continental Shelf. – Rappler.com