'Excuse me, sinong tinakot nila?'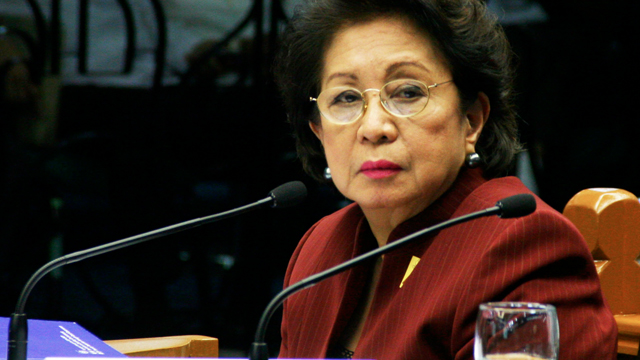 MANILA, Philippines — "Excuse me, sinong tinakot nila (who are they threatening)?"
Ombudsman Conchita Carpio Morales on Friday, August 30, revealed that someone called her office to tell her to "go slow" on her probe into the Priority Development Assistance Fund (PDAF) or pork barrel.
"At one o'clock (on Friday). I was not around. I was at the Asian Development Bank caravan. My secretary said somebody wanted to scare me… go slow on this thing," Morales told reportes on the sidelines of the agency's budget hearing in the House of Representatives.
"I did not ask my secretary to put in writing the exact words of the caller. Pero ang sabi daw niya ay mag-ingat ingat siya kung kailangan tama ginagawa niya," Morales said. (She should be careful. She must do what is right.)
"It was a telephone call and the number is now being validated by the intelligence section of Malacañang. My security are fast and they were the ones who alerted Malacañang about it," she added.
Morales said she is not backing down. "Excuse me, I'm not scared. Maybe they are scared and that's why they are trying to scare me," she said.
Morales leads the Inter-Agency Coordinating Council (IAGCC), the body tasked to investigate reports of scams involving the pork barrel. Morales said the IAAGCC will meet next week.
Justice Secretary Leila De Lima said they will run after lawmakers and individuals misusing the discretionary fund.
READ: Ombudsman to use full powers in pork probe
Morales gave assurances she will not favor administration allies in the probe. 
"The fact of being an ally or not an ally and I don't know who the allies and who are not will not be factored in the investigation of the case. Sorry na lang kung it turns out na allies," she said. — Rappler.com