This is AI generated summarization, which may have errors. For context, always refer to the full article.
The funds will be used instead to acquire two frigates for the Philippine Navy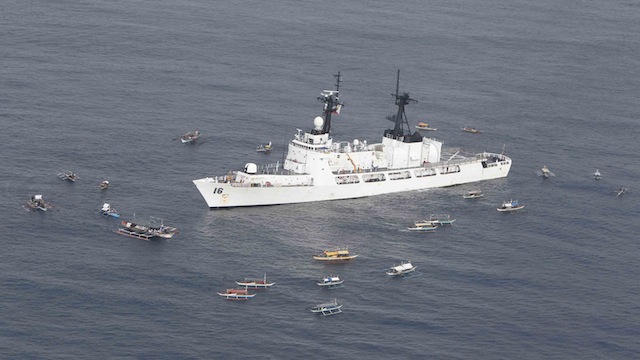 MANILA, Philippines – The Department of National Defense (DND) has cancelled its plan to acquire a third Hamilton-class cutter from the United States, defense undersecretary for finance Fernando Manalo said on Monday, September 2.
"The DND decided to forgo the acquisition of a third Hamilton and use the funds intended for that project to support additional requirements for the acquisition of two frigates by the Philippine Navy," Manalo said at a hearing of the House committee on national defense and security.
The Armed Forces acquired two Hamilton-class cutters from the US: BRP Gregorio Del Pilar and BRP Ramon Alcaraz. Both warshirps, about 40 years old, were acquired for free through the US Excess Defense Articles program, but government had to spend P450 million and P600 million, respectively, for the refurbishment of the cutters. 
READ: Fair winds: Navy's new warship arrives
Inspite of their age, they are the country's latest warships. The navy's flagship, BRP Rajah Humabon, is 70 years old.
The DND is conducting bidding process for the navy's new frigates. 
Amid tensions in the West Philippine Sea (South China Sea), the DND is shifting its focus from internal security to external defense. Aside from the two new frigates, the navy is expecting new helicopters in December. The Air Force is also posed to acquire 12 fighter aircraft. 
The Aquino administration has allocated an initial funding of P75 billion to boost the country's maritime security. The Philippines also sought the assistance of treaty ally US on maritime security and maritime domain awareness. 
– Rappler.com