The military says it was able to monitor the entry of unarmed MNLF members 3 days ago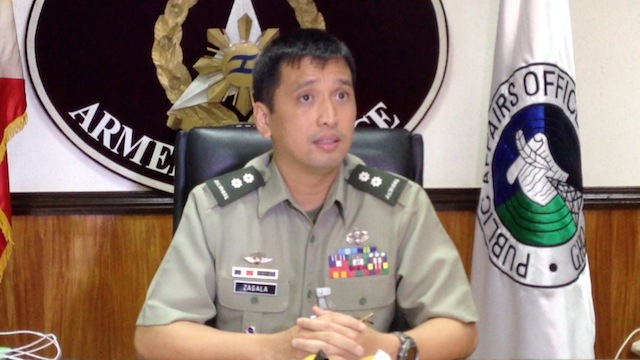 MANILA, Philippines (Updated) — How can 400 members of the Moro National Liberation Front (MNLF) enter Zamboanga City, headquarters of the Armed Forces of the Philippines' Western Mindanao Command, undetected?
The Armed Forces monitored the entry of MNLF members in Zamboanga City "three days ago" but government forces could not prevent them at that point since they were unarmed, AFP public affairs chief Lt Col Ramon Zagala said in a press conference.
Zagala said they learned about a planned "mass action" in Zamboanga but noted that the MNLF held similar moves in Davao that were peaceful.
READ: MNLF attacks: A chronicle
It was the arrest of MNLF troops carrying "high-caliber firearms" Sunday night, September 8, that prompted government response. He claimed military lines were set up to prevent further entry by MNLF troops. 
"The entry of unarmed MNLF into Zamboanga City, we cannot prevent that. We already have a final peace pact with them. The last thing you want them to think is we are harassing them. If they are entering unarmed, what we can do is monitor them," Zagala said.
"But yesterday, that's the time we monitored that the armed elements are coming in. We engaged them… If we were not able to engage them, then you'd see that there's failure in intelligence," Zagala added.
MNLF troops already in place
Firefight between government troops and the MNLF on Monday, September 9, killed at least 6 and injured 24. The MNLF has held hostage at least 20 civilians.
READ: LIVE BLOG: Zamboanga clash 
Zagala said the AFP prepared for the "possibility of armed confrontation" by deploying Task Force Zamboanga, which he claimed was able to "hold" the villages of Sta Barbara, Talon-Talon, and Rio Hondo.
The military said the troops were reinforced with armor and air assets to assist the Philippine National Police, which takes the lead role in addresing the hostage crisis. 
At 1:45 am Monday, September 9, there was an encounter at sea between the Naval Special Operations Group and about 100 MNLF troops trying to enter Zamboanga through barangay Rio Hondo. 
"Unfortunately one member of the Special Operations Group of the Phil Navy was killed and 6 were wounded," said Zagala.
AFP spokesperson Brig Gen Domingo Tutaan said military intelligence prevented the entry of more MNLF troops. 
"We have ample information on this and we reacted appropriately. Our efforts this morning to prevent their interdiction from the sea proved to be successful," Tutaan said. 
"We have prevented [its] escalation by virtue of the intelligence that we had," Tutaan added.
The situation changed, however, when the MNLF took hostages. 
"They are using these hostages as human shields to try to penetrate the line that we have already established last night. This is so that they could enter the city and we will not let that happen," Zagala added.
The military said the MNLF troops who took hostages Monday morning were already in Zamboanga City before Sunday night. Rio Honda is a coastal barangay and thus very porous, Zagala said. He maintains the MNLF has not penetrated the military lines they've set up. 
"There were some that were able to still conduct their planned operations. We believe their objective is to reach the City Hall. We prevented that," said Zagala. — Rappler.com