This is AI generated summarization, which may have errors. For context, always refer to the full article.
The standoff leaves 12 people dead, including two civilians, a police officer, a soldier and 8 rebels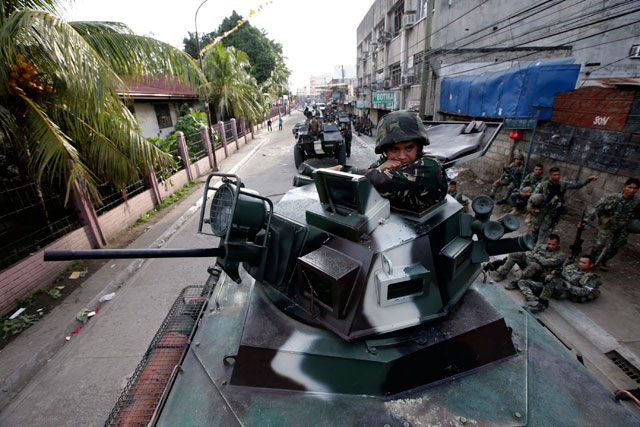 ZAMBOANGA CITY, Philippines – Heavy fighting broke out Thursday, September 12, between Philippines government forces and Muslim rebels in this city, with mortars and sniper fire unleashed on troops as they advanced on militant positions.
Gunmen from the Moro National Liberation Front (MNLF) have used villagers as human shields in their assault on Zamboanga which began four days ago.
Troops advancing toward the militants, who are dug in in several communities on the city's outskirts, were met with rebel sniper volleys and mortar shells, an AFP reporter at the scene said.
"We are trying to ensure that no rebel will get out," military spokesman Lt Col Ramon Zagala told AFP.
Hundreds of elite soldiers backed by police forces have surrounded about 180 guerrillas, and are trying to close in without causing civilian casualties in the heavily populated neighbourhoods, he said.
"We cannot just conduct offensive actions without taking account of the hostages," Zagala said after fighters on Wednesday took potshots as they hid behind hostages who were roped together and pleading for mercy.
The assault, which began on Monday, September 9 when the rebels landed by boat on Zamboanga's coastal fringes, has displaced some 13,000 people and shut down the city where streets are deserted and government buildings under heavy guard.
READ: Red Cross appeals to AFP, MNLF
The gunmen, followers of MNLF founder Nur Misuari who made a renewed declaration of "independence" a month ago, are believed to be hiding among at least 80 residents in the coastal villages.
An air force helicopter hovered over the city of nearly one million on Thursday while armored personnel carriers tore through deserted streets of the Santa Barbara and Santa Catalina districts.
Misuari's men launched the siege in a bid to derail peace talks aimed at ending the long-running insurgency that has killed some 150,000 people in the south of the mainly Catholic nation.
Dead, wounded
This week's fighting has so far left 12 people dead, including two civilians, a police officer, a soldier and 8 rebels, according to the latest official tally.
The MNLF launched a war for independence in the region in 1971 and signed a peace deal with Manila in 1996 as the movement settled for limited self-rule.
The government has said the siege was designed to sabotage peace talks between Manila and the rival Moro Islamic Liberation Front (MILF).
READ: The MNLF, MILF and 2 peace agreements
Misuari has accused the government of reneging on its promises, and of sidelining his group in favour of the MILF, which is expected to take over an expanded autonomous region by 2016. – Rappler.com