(4th UPDATE) Armed followers of Nur Misuari, mostly from Basilan, surrender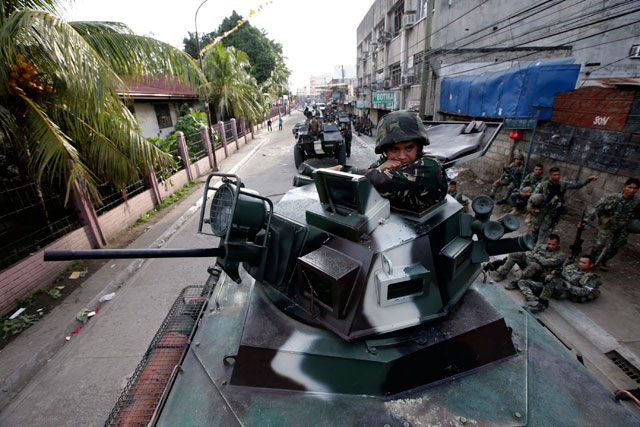 MANILA, Philippines (4th UPDATE) — Between 70 to 80 armed followers of Moro National Liberation Front (MNLF) founder Nur Misuari surrendered around 8 pm in Barangay Sta Barbara, Zamboanga City on Thursday, September 12, to police troops.
One of the hostages they brought with them is a priest — although the identity of the priest was not immediately known. We earlier reported that it was the Catholic priest who was held hostage last Tuesday. 
The number of surrenderees is about half the estimated 200 MNLF troops holed out in the coastal outskirts of Zamboanga City.
Most of them are from Basilan.
Police intelligence sources and residents in Barangay Sta Barbara told Rappler they surrendered to a team of the Philippine National Police, the Presidential Anti-Organized Crime Commission and the Philippine Center for Transnational Crime.
"A certain member of MNLF under commander Ismael with white flag reached our position and negotiated their surrender. About 80 of them are armed and one is wounded," according to one source at the scene.
The MNLF member who served as the coordinator identified himself as Paulo Casa. He said he approached around 6:30 pm the government troops positioned across the street from the mosque they were occupying in barangay Sta Barbara.
He negotiated for a ceasefire. He said he was unarmed when he approached them.
Casa said they were holding 38 hostages. He said they're doing fine. The hostages earlier waved the white flag to catch the attention of the government troops. 
The leader of the MNLF surrenderees is Commander George Ismael, father in-law of Tahira Ismael, former mayor of Lantawan, Basilan, according to the same sources.
When Rappler received the information about the surrender, the police had yet to notify their regional commander or Interior Secretary Mar Roxas, who is in the city as part of the crisis committee tasked to end the standoff, which entered its 4th day on Thursday. Roxas subsequently denied the report.
But our sources in the barangay said that as of 11 pm Thursday, soldiers and policemen began bringing some of the wounded and senior MNLF members to the nearby hospital. Bulk of those who surrendered were still in the barangay for "processing," the sources said.
As of 11:30 pm, the government has yet to release a statement about the surrender. Roxas was still in a meeting with senior police and city officials. – Rappler.com