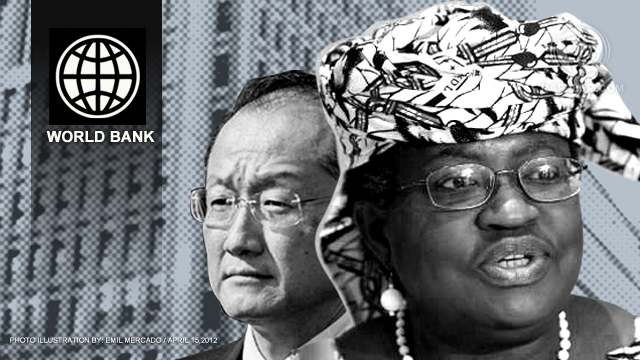 If tradition would still be followed, the World Bank board would just have a ceremonial meeting on Monday, April 16, to name its new leader. The United States' nominee for the top post in World Bank used to be a shoo-in, but not this time. The developing countries that are at the receiving end of the anti-poverty financing schemes of the multilateral agency funded mostly by the United States are supporting an "opposition" candidate, Ngozi Okonjo-Iweala, the 57-year-old finance minister of Nigeria. She is up against Jim Yong Kim. US President Barack Obama previously endorsed the 52-year-old Korean-American who has the World Health Organization and drugs for HIV/AIDS patients in developing countries under his belth. He is currently president of Dartmouth College, an Ivy League university. The Philippines is moving away from the pack and is supporting US's nominee.

Read the two candidates' profile on Rappler.

Read story on Philippines' support for the US nominee on Rappler.