(UPDATED) The suspect, 19, tells reporters that there are 4 others with him in killing the advertising executive from Las Piñas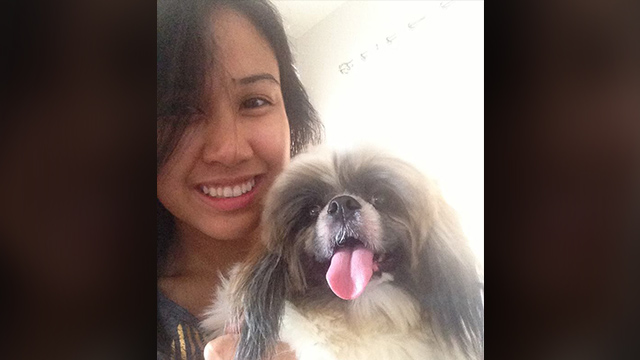 MANILA, Philippines (UPDATED) – The National Bureau of Investigation (NBI) arrested on Friday evening, September 20, one of the suspects in the killing of 25-year-old advertising executive Kristelle "Kae" Davantes on September 7.
The arrest came 4 days after Malacañang raised to P2 million the reward for information that would lead to the arrest of the suspect.
The suspect was identified as 19-year-old Samuel Decimo, according to an ABS-CBN report. Investigators could not interrogate him yet since he doesn't have a lawyer with him.
However, the suspect admitted to reporters his role in the crime, and said there were 4 more involved.
He said he was one of those who stabbed Davantes.
He said he is willing to cooperate with authorities in solving the case.
The suspect claimed that the motive for the killing was robbery, but there remains the question why the victim's car – one week after her death – was intact, and only the seats were missing.
Davantes went missing after a night out with friends on Friday, September 6, at the Bonifacio Global City in Taguig. Hours later, she was found dead – gagged, hands ties with a seatbelt, with 5 stab wounds – under a bridge in Silang, Cavite.
READ: OFW parents come home to bury Kae Davantes
The police recovered Davantes' missing car, a Gold Altis car with plate number PIM 966, at Camella Homes in Las Piñas – the same city where she lived – on the day of her burial last Sunday.
Police said before her murder, Davantes could have already entered their subdivision, but went out again shortly after, followed by another car.
The authorities are still accepting information leading to the arrest of the other suspect in her killing. Information can be fowarded to the following:
PNP SMS Hotline: 0917-8475757
I-text mo kay Tsip: 0917-847-5757
PNP NOC: 0919-282-1142
Twitter: @ireport_krimen
Facebook: facebook.com/pnp.pio
– Rappler.com