This is AI generated summarization, which may have errors. For context, always refer to the full article.
Overtaken by events Habier Malik is cornered and finds himself caught in a trap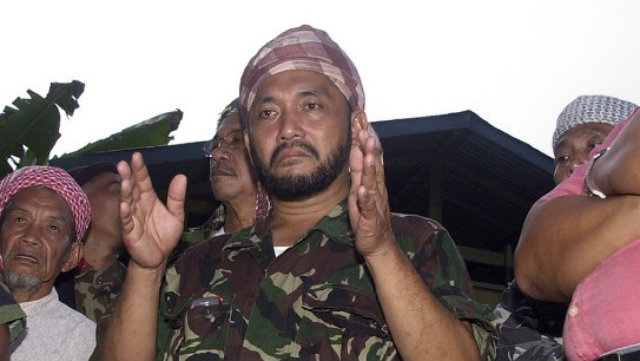 ZAMBOANGA CITY, Philippines — For several nights now, the government has been playing Tausug music for Moro National Liberation Front (MNLF) commander Habier Malik and his remaining followers still holed up in the battle zone. 
In between, a recording of an ulama appealing to the MNLF fighters to lay down their arms and give up the armed struggle, plays. It reminds them they have families waiting for them. It does not ask Malik and his men to surrender but instead asks them to "go back to the fold."
That recording plays over and over except during times of prayer. But the MNLF commander has remained obstinate.
"Mabuti pa mamatay kami lahat," Malik told Rappler in a phone interview on September 15, when we asked if surrendering was an option. "When we came here, we were ready to die for our cause," he added. Sniper shots were heard in the background during the call.
READ: Habier Malik: We're willing to die
About 200 members of a renegade MNLF faction attacked the city on a Monday, September 9, demanding that they be allowed to hoist their flag at City Hall and declare their independence from government. They wanted a renegotiation of the peace deal they signed with the government in 1996 and took about 180 hostages. They were led by Habier Malik.
Close to two weeks since the attack, President Benigno Aquino III announced on Sunday, September 22, that the crisis could be over that day. It hasn't ended. And Malik is still holding some of the hostages.
Ties with Misuari
Described by those who know him as a decisive and respectable man, Malik developed a close friendship with MNLF founder Nur Misuari over time. Misuari in August had just declared an "independent Bangsamoro Republik."
"They go a long way," said Undersecretary Jose Lorena of the Office of the Presidential Adviser on the Peace Process (OPAPP). Lorena worked with Malik when Nur Misuari was governor of the Autonomous Region in Muslim Mindanao (ARMM).
"Chairman Misuari was in Saudi and Ustadz Malik was also in the Middle East. Occasionally, they'd meet. They became very close. He was always asked by Chairman Misuari to accompany him in some of his talks," Lorena recalled.
When Malik was later appointed chairman of the ARMM's regional and unification commission, his job was to reconcile conflict. "Those days he moved from island to island to settle feud conflict among families and political rivalries," Lorena said.
If Malik was committed to do something, "he will do it…even if there are certain odds and obstacles."
Though he doesn't talk much, Malik makes firm decisions. If he sets his mind to something, he will do his best to accomplish it, Lorena said.
Ostensibly this included the attack on Zamboanga City.
Target Zamboanga
The choice of Zamboanga for the assault was tactical. Malik said if they had staged the attack in Sulu, no one would have taken notice.
"Ang gusto namin para mabigyan pansin dito, sa karamihan ng tao. Para magbigay pansin ang lahat," Malik said. (We wanted to get attention here, given the number of people. This was intended to call the attention of all.)
"Ang pagpunta dito, hindi ito personal. Hindi ito Sulu, Zamboanga, Basilan, Tawi-Tawi. Para sa lahat ito. Yung pwedeng bigyang pansin ang pag-uusap pang-kapayapaan. Kapag may problem may solution. Ang solution, sa pag-usap," he told Rappler. (Our coming to Zamboanga is not personal. This is not Sulu, Zamboanga, Basilan, Tawi-Tawi. This is for all. We hope peace talks are given attention. When there's a problem, there's a solution. The solution lies in dialogue.)
But doesn't the attack on Zamboanga run counter to the spirit of dialogue? Malik, sounding frustrated, replied in Filipino, "We want dialogue, serious dialogue, with solid basis — the Tripoli Agreement of 1976."
"Kapag hindi ito sinosolba, parang peklat hindi naaalis. Always pabalik balik," he explained. (If the problem is not solved, it will be like a scar that will never go away.)
Malik is referring to the 1976 Tripoli Agreeement signed by the Marcos government with the MNLF and brokered by Libya. It aimed to include 13 provinces in an autonomous region, but this number was never achieved in referendums held after that.
The Tripoli pact has also been superseded by the 1996 peace agreement signed by the MNLF with the Ramos government.
READ: Misuari and the lessons of inclusion
Retired Brig Gen Gen Mohammad Nur Askalani, formerly with the OPAPP, said he also believes that attention was all that Malik wanted.
"The primary purpose was just to call attention. They do not aim for tactical [combat]. They just wanted attention, to make their concerns heard," Askalani said.
Before Ramadan, Lorena said he got no indication from Malik that he was contemplating the Zamboanga siege. Exchanging text messages then with Malik, Lorena did not suspect that the MNLF commander was up to "anything malicious."
From their exchanges, Malik "sounded to have accepted the proposition that perhaps there would be continuing discussion," Lorena said, referring to talks between government and MNLF.
MNLF vs MILF
On Day 7 of the standoff between government forces and the MNLF group, Malik echoed Misuari's protests against the new peace deal with rival group Moro Islamic Liberation Front (MILF).
"Ang MNLF iba. Ang MILF iba. Yun ang problema. Kahit ikaw maghinanakit ka rin. Nandoon ang international agreement. Ipapa-apakan mo sa local agreement. Bakit hindi tapusin muna ang international agreement?" Malik said. (The MNLF is different. The MILF is different. That's the problem. Even you would resent this. There's an existing international agreement which you will allow the local agreement to supersede? Why not finish the international agreement first?)
But the OPAPP said it's a "miscommunication." There is no plan to end the 1996 peace accord with the MNLF. The MNLF is, in fact, invited to join the talks for the creation of the Bangsamoro being discussed at present with the MILF. 
READ: The MNLF, MILF and 2 peace agreements
By attacking Zamboanga, Malik got the attention he wanted.
On Day 4 of the crisis, he already wanted to talk to government about a "safe conduct pass" for him and his men. He was willing to release his hostages on condition they would be allowed to sail back to their homes and peace talks with government would resume. 
One of Malik's hostages, Catholic priest Michael Ufana, was supposed to bring these demands to the government, specifically to Interior and Local Government Secretary Mar Roxas. But they were ignored.
In the battle zone, Malik struck an unlikely friendship with Ufana, who described Malik as a prayerful man. Ufana was taken by the MNLF from his father's house in Sta Catalina to join the other hostages.
"I even joked. Mas masanto pa kayo sa akin (You're more saintly than I am)."
When Ufana asked why the MNLF rebels were doing what they were doing, he was told, "Father, they have forgotten us. The government turned their back on us. They have forgotten the Tripoli Agreement."  
Malik later told Ufana, "This is what I'm asking from government. Just recognize us."
Same methods
But what Malik pulled off two weeks ago is nothing new.
In 2007, he also took hostage then Marine Maj Gen Benjamin Dolorfino and 18 others, who were in Sulu to talk peace.
In a story published in MindaNews last August, Jesus Dureza, then the presidential adviser on the peace process, recalled: "Malik, a religious leader who maintains an armed force in the vastness of Sulu, is one of the loyalists who 'hostaged' Marine General Ben Dolorfino and Gen Ramon Santos, my OPAPP undersecretary, when they entered his camp to deliver some 'goodies' and in a goodwill mission. They were prevented from leaving the camp for several days for one reason or another. I had to fly to Jolo and personally negotiate with Malik to set them free."
After a lunch meeting with Malik, Dolorfino and his team were eventually fetched by two air force helicopters. At the time, Malik expressed his disappointment over the cancellation of the tripartite agreement between the government, MNLF, and the Organization of Islamic Cooperation that was scheduled then.
Cabatangan siege
Six years before Dolorfino was taken hostage — in 2001 — Misuari and his followers also swooped down on Zamboanga City and took hostages to air their grievances. It was then called the Cabatangan siege.
After just two days, however, they were allowed to walk free to waiting military vessels that brought them home. 
The trauma of the Cabatangan siege is still fresh in the memory of Zamboanga City residents. This is why not a few local officials and residents wanted swift military action against them when the MNLF descended on the city. 
"I don't want a repeat of Cabatangan…. I stand firm. Charges will be filed as lives have been wasted here. I want to see them go to jail and never come back to this city," said Zamboanga City Mayor Maria Isabelle "Beng" Climaco Salazar. She was a councilor when the Cabatangan siege happened.
Earlier attempts to broker a ceasefire with Misuari led to nowhere. Vice President Jejomar Binay's efforts did not prosper.
READ: Gazmin: No Zamboanga ceasefire
For a fee?
To Lorena, the violence in Zamboanga that has claimed the lives of over 100, displaced at least 70,000 people, and left less than 200 wounded is difficult to reconcile with Malik's declarations about the desire for peace.
READ: 'Humanitarian crisis' in Zamboanga – DSWD
"I cannot fathom that," he said. "If you are a leader for the Bangsamoro and your passion is to help your people, the violence created in Zamboanga does not approximate the kind of leader you view yourself to be," Lorena explained. (The coastal outskirts the MNLF occupied was the home of many Muslims in Zamboanga City.) 
Accounts of MNLF members who have surrendered also show that the siege was more than just about recognition.
Gov Mujiv Hataman of the Autonomous Region in Muslim Mindanao said he talked to some MNLF members who surrendered and told him that Misuari supposedly promised them P10,000 and a firearm each in exchange for going to Zamboanga to declare the independence of the Bangsamoro Republik.
"Sinasabi nila hindi nila akalain at sabi lang ni Misuari pumunta sila doon kasi may sahod sila from UN. Kasi pag pumunta sila sa Zamboanga at maitayo nila ang bandera nila at magdeklara ang UN ng kanilang independence and at the same time meron silang sahod na P10,000 per person, per participant na naka-ATM pa." (They are saying they did not expect what happened and that Misuari only told them to go to Zamboanga because they would be paid by the UN. If they go to Zamboanga and are able to raise their flag and the UN [recognizes] their independence, then they will receive P10,000 per person via ATM.)
Hataman asked: Why deceive your followers?
As of Monday, September 23, about 40 of Malik's followers remain in barangays Sta Catalina and Sta Barbara, still engaged in fierce gun battles with government forces. Close to 100,000 residents, meanwhile, continue to live in packed evacuation centers.  – Rappler.com