Subpoena was also served Sunday against 29 MNLF fighters involved in the Zamboanga City siege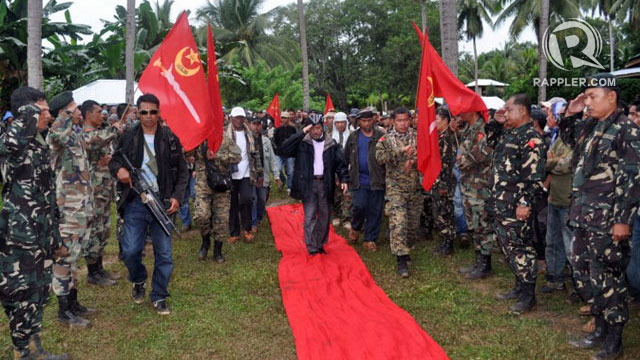 ZAMBOANGA CITY, Philippines — The Department of Justice is readying rebellion charges against Moro National Liberation Front (MNLF) founder Nur Misuari over the violent standoff between government troops and rebels here, according to President Benigno Aquino III.
"Inuusig natin si Misuari para managot dito. May mga testigo tayo na mag-uugnay sa kaniya sa kaguluhan dito na diretso. May kaso na hinahanda ang DOJ," Aquino told reporters Sunday, September 22.
(We are investigating Misuari. We have witnesses who can directly link him to the crisis. The DOJ is preparing charges.)
Regional state prosecutor Peter Medalle said the Criminal Investigation and Detection Group (CIDG) has witnesses who can testify against Misuari. 
"The CIDG recommended to include Misuari in charges of rebellion," Medalle said.
It's not the first time Misuari was involved in rebellion charges. He faced the same charge in 2001 after his supporters launched a deadly attack against a police station in Sulu and torched houses in Sulu. 
Misuari escaped to Sabah after the attack but was later deported. The case was eventually dismissed, however.
Subpoena vs MNLF fighters
Aquino said many of the MNLF fighters who surrendered claimed that they were misled to join the siege. 
Medalle said subpoena against 29 MNLF fighters who either surrendered or were arrested was served on Sunday, September 22. They have 10 days to submit their counter-affidavits.
"We transferred proceedings to city library," he said. The Justice Hall is very near the battle zone.
The rest of the MNLF fighters under government custody are still undergoing inquest.
Based on military's latest numbers, 99 MNLF fighters were killed, 72 were captured, and 45 surrendered.
Change in Misuari's attitude
Aquino said he wants to understand the change in Misuari's attitude. "Iyon ang gusto natin malaman. Bakit hindi natin napansin. Mula dakdak ay magbibigay sindak sa mamayan," he said.
The President said Misuari cannot claim that the government has been ignoring him. He said several plebiscites have been held allowing provinces to decide whether or not they want the autonomous region. 
"If the end point for him to be satisfied is to get all 13 under a regional government of which he will head, how can I force that on anybody?" 
Aquino's warning
Aquino reiterated the Zamboanga City Crisis should be a warning to the MNLF-Misuari faction and other group who plan to stage similar attacks. 
READ: Aquino: MNLF diminished, other groups be warned
He said the government will not hesitate to use overwhelming force. — Rappler.com