The SC will decide on whether or not to order the disclosure of Corona's dollar deposits on June 26 yet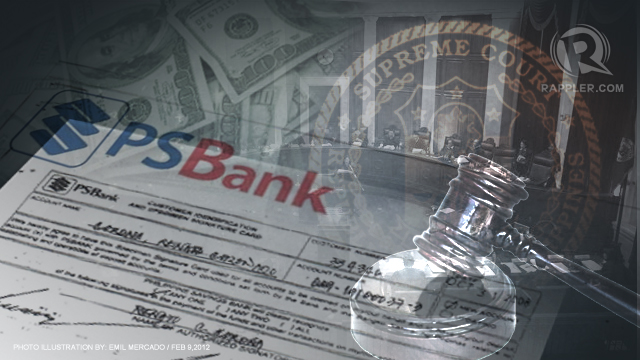 MANILA, Philippines – The Supreme Court (SC) on Tuesday, April 17, postponed yet again its ruling on the temporary restraining order (TRO) it issued on the disclosure of Chief Justice Renato Corona's dollar accounts in the Philippine Savings Bank (PSBank), an SC insider told Rappler.
Issued on February 9, the TRO stopped PSBank from further testifying and presenting documents before the impeachment court about Corona's dollar accounts. Citing bank secrecy laws, the SC voted 8-5 to issue the TRO.
The prosecution has appealed the ruling, and it is now up to the High Tribunal to decide on the matter with finality.
The en banc, meeting in Baguio Tuesday, decided to rule on the matter on June 26 yet.
The impeachment court is currently on a long break. Trial will resume on May 7.
When it rested its case before the impeachment court, the prosecution said it reserved the right to pursue Corona's dollar accounts pending a final decision by the SC.
Information reaching the prosecution shows that aside from his PSBank dollar accounts, Corona had at least 2 others in another bank amounting to no less than US$500,000. – Rappler.com