During clearing operations in Barangay Kasanyangan, the Marines call on the rebels to surrender, but they allegedly fire upon the soldiers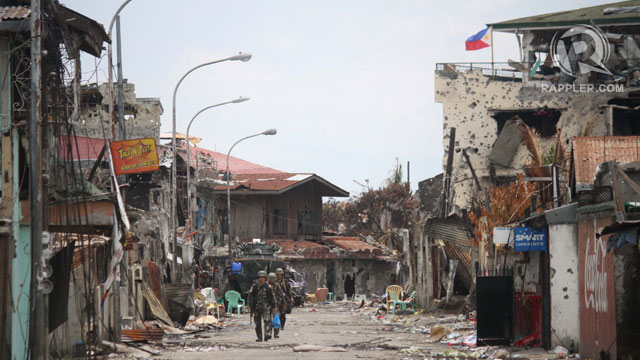 MANILA, Philippines – The military found and killed two more Moro National Liberation Front (MNLF) fighters during clearing operations in the combat zone in Zamboanga City. 
Western Mindanao police spokesperson Ariel Huesca said the military called on the two rebels to surrender after sensing their presence in Barangay Kasanyangan's Sitio Bugguk. However, the two allegedly fired upon the military's 23rd Marine Company and were killed in the short gunfight.
It has been nearly two weeks since the government declared Zamboanga City crisis over on September 28. Kasanyangan is a barangay adjacent to Sta Catalina, the heart of the battle between government troops and the followers of MNLF founder Nur Misuari. (READ: Zambo crisis: The fog of war)
Two M-14 rifles were recovered from the rebels. In Sta Catalina, the military's 44th Infantry Battalion also recovered one M-16 rifle in a drainage canal and an AK-47 while scouring the mangrove areas.
The military is assisting the police, which has taken the lead in the clearing operations.
The crisis that lasted 20 days, from September 9 to September 28, killed 208 MNLF fighters. Another 24 surrendered and 270 were captured, based on military statistics. 
Twenty soldiers lost their lives and another 177 were wounded. (READ: 'The first to respond, the last to leave')  
The military considers the operations in Zamboanga City an "accomplishment" because 195 hostages were rescued. Two hostages were killed and 9 were wounded. – Rappler.com