Five tracker teams are searching for him in the Zamboanga Peninsula, Sulu, Basilan, and Tawi-Tawi, where he has relatives or supporters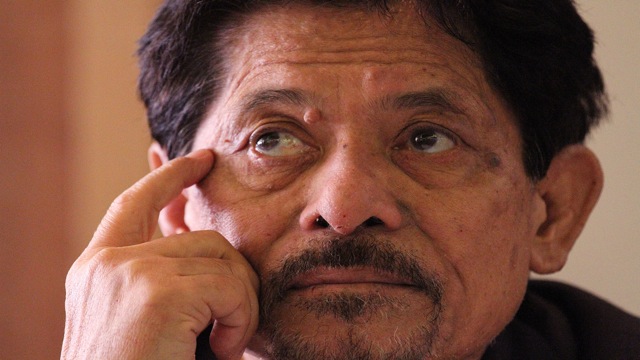 MANILA, Philippines – The first time Moro National Liberation Front (MNLF) founder Nur Misuari faced rebellion charges was in 2001. He was believed to be the mastermind of an attack against a military camp in Sulu that killed more than 100 people.
Misuari fled to Sabah, where he was arrested and deported for illegal entry. In the Philippines, he was first jailed at Fort Sto Domingo in Laguna, the same place that now serves as the jail for alleged pork barrel scam queen Janet Lim Napoles.
Misuari would be allowed house arrest and was later released on bail until the charges were eventually dismissed in 2009. The prosecution failed to link him to the attack.
Misuari is now 71 years old. He is again facing rebellion charges for masterminding the 20-day siege of Zamboanga City in September. President Benigno Aquino III says the government has an airtight case against him. (READ: Arrest warrants out vs Misuari, Malik, 2 others)
Where is he?
The arrest warrant is out, but how will the Philippine National Police (PNP) serve it to a man like Misuari?
"Mahirap talaga (It's really difficult)," Deputy Director-General Felipe Rojas Jr, PNP deputy chief for operations, told Rappler.
"But we will find him to give justice to those who were killed and those whose houses were burned in Zamboanga City," he said.
Misuari's arrest, he said, will help the Zamboangeños put closure to the 20-day crisis that shut down the city, killed 12 civilians and 18 soldiers, and damaged over 10,000 houses. 
First, the question: Where is Misuari?
Rojas says Misuari was last seen two weeks ago in Talipao town in his home province of Sulu. He says there are "bits and pieces" of information coming from intelligence, but he did not elaborate. They are also getting information from detained MNLF fighters.
Island provinces
The PNP has deployed 5 tracker teams to search for Misuari in some parts of the Zamboanga Peninsula and the island provinces of Sulu, Basilan, and Tawi-Tawi. Misuari is known to have relatives or supporters in these areas.
Citing the government's close coordination with Malaysian and Indonesian immigration officials, Rojas is confident Misuari won't try to leave the country again. 
The Armed Forces of the Philippines (AFP) is assisting the PNP, especially in areas where the military has more assets than the police. 
"Units of the Armed Forces of the Philippines are on the ground in areas where he may possibly be – not necessarily in Sulu but all areas of concern. Let's allow our units on the ground to do their job. We will update you later on," said AFP spokesperson Lieutenant Colonel Ramon Zagala.
Zagala says they recognize that Misuari is no ordinary person. "The AFP is organized in a way that all areas of operation are covered. We have the Philippine Army, Philippine Air Force, and the Philippine Navy – all tasked to do separate things in these various areas of concern," Zagala added. 
Sulu: Misuari's sanctuary
It won't be easy looking for him in Sulu alone, says retired Brigadier General Muhammad Nur Askalani, who grew up in Sulu and is familiar with Misuari's influence in his home province. Askalani also used to be with the Office of the Presidential Adviser on the Peace Process.
"The guy is moving. Nobody is exactly sureof his whereabouts," said Askalani.  
Despite PNP pronouncements that angry relatives of MNLF fighters killed in Zamboanga City are also hunting down Misuari, Askalani believes the rebel leader remains to have "a lot" of followers. 
"He has enough sanctuary. In Sulu alone, he has enough mobility. He can move from place to place using land, the jungle, and the sea," Askalani said. 
No timeline
Colonel Jose Johriel Cenabre, commander of the Sulu-based 2nd Marine Brigade, said: "Walang address 'yan dito (He doesn't have an address here)."
Cenabre told Rappler they met with the Sulu-PNP on Thursday, October 10, to discuss "rules of engagement." He did not elaborate. 
The PNP has a Special Action Force (SAF) unit in Sulu. However, Rojas says, the PNP has "limited" assets there compared to the AFP, which deals with rogue MNLF members and the Abu Sayyaf based in the province.
"We cannot predict [a timeline]. We are following the Crisis Management Committee [in Zamboanga City]," Cenabre said. 
The court order specifies that the police should be able to serve the warrant within 10 days. 
The arrest warrant was issued on October 8.
– Rappler.com