Based on evidence and the law, Escudero says the vote can go either way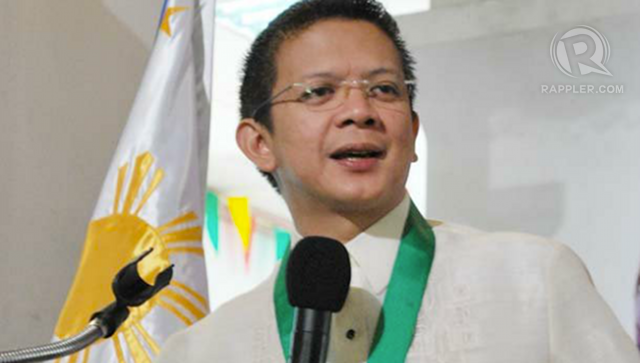 MANILA, Philippines – Senator Francis "Chiz" Escudero "long ago" talked to President Aquino against focusing too much on the impeachment trial of Chief Justice Renato Corona.
"Not as a senator talking to a president, but perhaps as a person taking to his friend and as a conversation between friends, yes. But this was a long time ago," the senator said on Rappler's #TalkThursday.
"I have really been — not necessarily against the impeachment — but against the inordinate focus that has been given [to it] not only by the President but by everyone," Escudero said.
"I'm not saying that he should not. But not too much time should be spent on it. If you keep looking behind you, there's a big chance you will not reach what you want to reach simply because you might trip and fall," he went on.
Watch Escudero's full interview here: #TalkThursday.
Focus on economy
Escudero said he understands that there's pressure on President Aquino to run after President Arroyo and his allies, but he said Malacañang should leave it to the appropriate government agencies.
"Let the Ombudsman run after thieves…Let the government basically run the county and concentrate on the economy," he said.
 "At the end of the day, whether or not Corona is convicted, those without jobs would still be without jobs," he added.
His vote
How will Escudero vote on the impeachment trial of the Chief Justice? He said he will base it on "the evidence and the law."
"Right now, this is as honest as I can get, basing it on the evidence and the law, it can actually go either way. It will be a value judgment on the part of each senator-judge," he said.
He knows some senators have made up their minds. In closed-door caucuses, Escudero said the "body language of some senators are quite obvious."
Survey drop
The frontrunner in the November 2011 Pulse Asia survey, Escudero suffered a huge drop of 12 points in the March 2012 survey. The impeachment trial started in January.
In the trial, Escudero would often stand up to invoke rules and ask "clarificatory" questions on processes. He also voted to respect the temporary restraining order issued by the Supreme Court (SC) stopping the Senate from examining the Chief Justice's dollar accounts. The prosecution panel appealed it.
Escudero's carefulness in the impeachment trial of the Chief Justice deviates from his image as former Opposition spokesperson, who heavily criticized the Arroyo administration.
But it's a different situation, said Escudero.
"I'm now a judge, not a prosecutor. I'm not a complainant," he said.
"We cannot say it (survey) does not matter. We are representatives of the people. But at the same time, we are leaders as well. We get to be judged come election time," he said.
FPJ's spokesperson
Escudero said he is not afraid to make "unpopular decisions."
As former member of the Nationalist People's Coalition, Escudero supported the impeachment bid against former SC Chief Justice Hilario Davide. He opposed the impeach bid against former President Joseph Estrada.
While his position to support the impeachment bid against former President Arroyo was popular in the national political scene, it was to the detriment of his district. He did not receive his pork barrel.
Inspite of his unpopular decisions, Escudero said people have been kind and understanding. "Whenever I took a position, which my gut told me to take, people respected it," he said.
Escudero gained national prominence as spokesperson of the late Fernando Poe Jr in the 2004 presidential elections. He ranked 2nd in the official results of the 2007 senatorial elections, and he would have run as vice president of Estrada had circumstances allowed it. Instead, Jejomar Binay became Estrada's runningmate and won. – Rappler.com