Congress, she says, has the sole authority to allocate proceeds from the Malampaya, PCSO, and Pagcor operations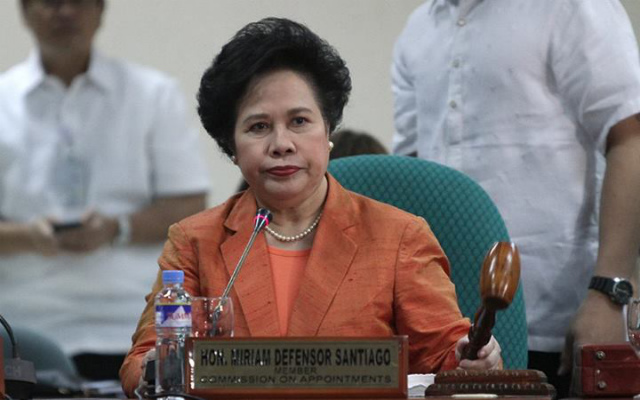 MANILA, Philippines – For years, the Executive has allocated proceeds from the Malampaya natural gas project, the Philippine Charity Sweepstakes Office (PCSO), and the Philippine Amusement and Gaming Corporation (Pagcor) any way it wanted.
They were off-budget funds – not included in the annual appropriation laws, and spent based on presidential orders and memoranda.
Senator Miriam Defensor Santiago wants to put an end to the practice that she says is "unconstitutional."
On Monday, October 21, she filed Senate Resolution 304. It expresses the sense of the Senate for the funds to be included in the Budget of Expenditures and Sources of Financing (BESF), which the President submits to Congress every year.
The funds are "used, distributed and disbursed outside the budget process," she said, so the practice violates Article 6, Section 29, paragraph 1 of the Constitution.
It states, "No money shall be paid out of the treasury except in pursuance of an appropriation made by law."
"The Constitution reserves the budget process for Congress, which consist of elected public officials.  But under the off-budget process, it is non-elected public officials, principally the budget secretary, who decide, on instructions by the President, how these public funds should be spent," she said.
Santiago, who chairs the Senate committee on constitutional amendments and revision of codes, said in a press release that off-budget funds were created during martial law, when the President exercised both executive and legislative powers.
"At present, these off-budget funds are under the complete control of the President, without an appropriation made by Congress.  The practice of off-budget funds is an evil that should be struck down on its face for violating the Constitution," Santiago said.
Although the budget process starts with the President, who submits to Congress the BESF Report and the National Expenditure Program, it is Congress that has the sole power to appropriate the revenues earned by government.
The BESF Report details where government revenues will come from, how much, and how these are proposed to be utilized for the following year.
Santiago said the BESF Report does not include off-budget revenue sources, like the Malampaya fund, the PCSO charity fund, and the Pagcor social fund –"three major sources of national revenues."
"All three funds…are not included in the annual budget and therefore, are not deliberated upon by the Congress. Such funds do not go through the national treasury, contrary to the clear mandate of the Constitution," Santiago said. – Rappler.com