DepEd officials in the quake-hit province are confident students will attend their classes even if majority of the schools in the province incurred damage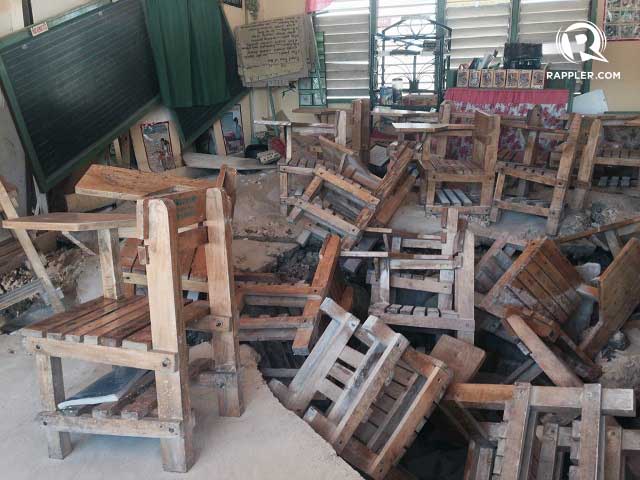 MANILA, Philippines – Makeshift tents, stages, offices of principals, or barangay halls – anywhere will do for now as schools in quake-hit Bohol are set to resume classes on Tuesday, November 5.
"Yes, 100% of our schools magkakaklase, pero hindi lahat nasa classrooms," Department of Education (DepEd)-Bohol schools division superintendent Wilfreda Bongalos told Rappler in a phone interview on Thursday, October 31. (Yes, 100% of our schools will hold classes, but not all will be in classrooms.)
She said all 1,092 school have been checked by engineers from the municipal governments and the Department of Public Works and Highways.
The education department's engineers, on the other hand, focused on checking schools in badly hit areas such as Loon, the municipality which sustained the most damage from the 7.2 magnitude earthquake that hit Central Visayas three weeks ago on October 15.
The first day back, Bongalos said, will be for storytelling as students undergo psychosocial aid. Some teachers affected by the quake have been debriefed beforehand to prepare for the opening of classes.
The department will also employ different strategies to conduct classes.
"Teachers in inaccessible areas will have to gather their students to hold alternative classes first," she said in a mix of English and Filipino.
Class shifting will also apply to some schools, while those hit by landslides – especially in barangays Bagacay, Tiwi, and Biasong in Loon town – will be merged with schools in adjacent towns.
Engineers have arrived at estimates for the repair of 288 schools. DepEd will rebuild these schools following a new design that can withstand earthquakes as strong as magnitudes 8 or 9. (WATCH: Are schools in PH earthquake-proof?)
Tents coming in
Bongalos is confident students will attend their classes even if 59% or 639 of the schools in the province incurred damage.
"Supervisors say students will really return to schools, [even if] we are not ready in terms of buildings yet," she said.
She also lauded different municipalities that initiated the building of make-shift tents while waiting for procured ones to arrive.
They are expecting 100 tents from the DepEd central office to arrive soon. Bongalos said organizations, such as the United Nations Children's Fund and Save the Children, also donated tents.
Education Secretary Armin Luistro earlier said the department has alloted enough funds for the procurement of tents, but supply is short since their buffer stocks were deployed to Zamboanga City. (READ: Funds available but supply short for Visayas school tents) – Rappler.com