One fisherman is missing in Abra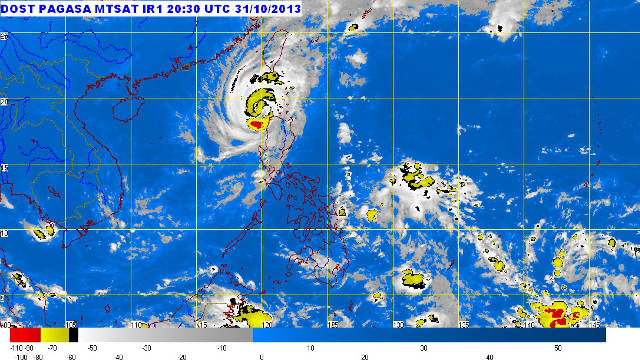 MANILA, Philippines (Updated) — Disaster management officials are still assessing the damage caused by Typhoon Vinta (international codename Krosa) but no major incidents were reported as it moved away from the Philippine area of responsibility, according to National Disaster Risk Reduction and Management Council spokesman Major Reynaldo Balido.
As of 3 pm on Friday, November 1, Vinta was located 270 kilometers west northwest of Laoag City.
Fisherman Loridel Baldos, 30,  is missing in San Juan, Abra. Balido was going to harvest his produce from a fishpond when he was swept away by strong river current. 
Placed under Signal Number 3, Cagayan was battered by Vinta's strong winds Thursday night leaving the national road from Aparri to Tuguegarao impassable due to fallen trees. Balido said  they have been cleared.
"Many houses were damaged and trees were uprooted. Damage to agricultural products is still being validated," said Armed Forces of the Philippines Northern Luzon Command spokesperson Major Emmanuel Garcia.
Garcia said the roofs of the public market in Sta Ana, Cagayan, a number of houses, and structures at teh Naval Forces Northen Luzon Camp were blown away. 
A number of electrical posts also fell down causing power outages and communication problems, said Office of Civil Defense Region 2 director Norma Talosig. 
"Troops of the 21st Infantry Battalion under Lt Colonel Benitez and PDRRMC-Cagayan  still conducting clearing operations in the coastal towns of Cagayan and further conducting assessment on the damage brought by Typhoon Vinta," Garcia said.
Communication lines were restored in Cagayan late afternoon on Friday, said Garcia. 
Talosig said there are no reports of flooding but crops like corn were damaged by strong winds. She cited the towns of Alcala and Iguig in Cagayan.
"The affected area is not so big. But we were only able to check so far the fields along the highway. We haven't seen the inner barangays," Talosig said. – Rappler.com