BRP Ramon Alcaraz will have simple commissioning rites so it can join the Yolanda relief efforts in Leyte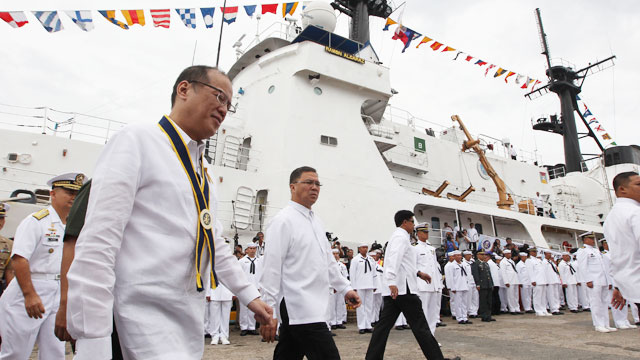 MANILA, Philippines — It will be a simple commissioning rites for the country's latest warship BRP Ramon Alcaraz  (PF-16) on Friday, November 22, so the refurbished Hamilton-class cutter the country acquired from the US can get down to business and possibly join the world's waships deployed to typhoon-ravaged Leyte. 
"It's going to be very simple. We need to commission Alcaraz so we can use it for the operations of the Philippine Navy," said Navy spokesperson Lt Cmdr Gregory Fabic. 
Alcaraz's twin ship BRP Gregorio Del Pilar (PF-15) is already in Leyte working along the warships of various militaries around the world, whose ships and aircrafts are augmenting the limited assets of the Armed Forces of the Philippines. (READ: Soldiers of the world deployed for Haiyan victims)
President Aquino led the well-attended arrival ceremony for Alcaraz in August. Alcaraz was acquired in the backdrop of growing tension between Manila and Beijing over the West Philippine Sea (South China Sea). 
But Leyte may be Alcaraz's first mission. Fabic said there are ongoing discussion to also send Alcaraz to Tacloban to join Del Pilar.
Alcaraz and Del Pilar are 40 year old warships came from the US Coast Guard through the US Excess Defense Articles program. The government spent P450 million and P600 million to refurbish them, respectively.
Foreign troops for Yolanda victims
The Armed Forces of the Philippines activiated on Friday, November 15, the Multi-National Coordinating Center (MNCC) that will monitor and coordinate efforts of the foreign militaries that responded to help in the relief effort.
Over 10 million Filipinos, mostly in the Visayas, were affected by Super Typhoon Yolanda (Haiyan), which struck last November 8. At least 3,982 people were killed and 1,602 remain missing, based on latest data from the National Disaster Risk Reduction and Management Council (NDRRMC).
"There are plenty of them. We have to orchestrate the efforts," said military spokesperson Major General Domingo Tutaan. 
The MNCC is headed by Vice Chief of Staff Lieutenant General Alan Luga.
The US and the UK have deployed their warships to the Phiilppines on Tuesday, November 12. (READ: US, British warships sent to typhoon-hit PH)
The Armed Forces also raised the maximum Code Red alert on Sunday, November 17. This requires all troops nationwide to stay in the camps and are prohibited from taking a leave.
"It was deemed necessary in order to enhance our efforts in HADR (Humanitarian Assistance and Disaster Relief)," said Tutaan. 
— Rappler.com