This is AI generated summarization, which may have errors. For context, always refer to the full article.
A government car was among the vehicles allegedly used by looters to bring the relief packs outside the Villamor Airbase in Pasay City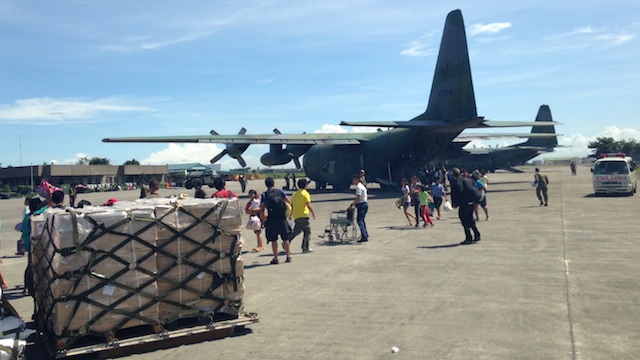 MANILA, Philippines – At least 25 civilians posing as typhoon survivors and volunteers were caught looting relief goods at the Villamor Airbase in Pasay City, the military confirmed on Wednesday, November 27. 
The looting was reported by fellow volunteers, said Air Force spokesperson Colonel Miguel Ernesto Okol. He said the Department of Social Welfare and Development (DSWD) filed theft charges against the suspects and turned them over to the Pasay City police.
"It's qualified theft by unscrupulous people who are posing as group of evacuees or volunteers, preying on the relief efforts of the DSWD," said Okol. The fake evacuees and volunteers operated in groups.
Air Force security forces caught them bringing the relief packs to their vehicles, and could not provide a sufficient answer when they were asked to explain. One of the vehicles was curiously a red-plate car.
"I don't know what agency, but it's a red plate. We stopped it before it was able to leave the gate," Okol said.
The relief operations at the military airbase started on November 16. Okol said there have been cases of looting early on.
The Philippine Air Force opened the Villamor Airbase to volunteers assisting hundreds of typhoon evacuees who land on the airbase every day. A number of them are then brought to relatives' houses by volunteers with vehicles. – Carmela Fonbuena/Rappler.com