With China sending its aircraft carrier into disputed waters, the DFA tells its big neighbor to behave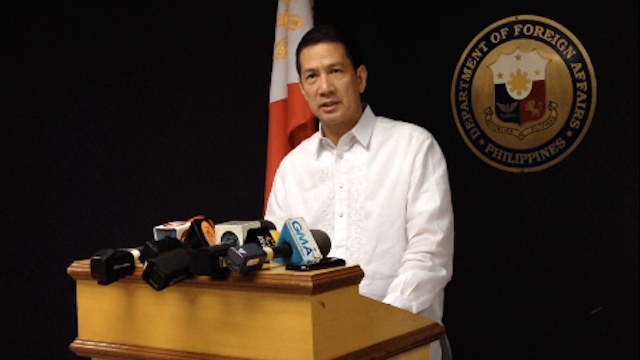 MANILA, Philippines – The Department of Foreign Affairs slammed China's move to send its aircraft carrier to the South China Sea.
In a press briefing on Wednesday, November 27, Foreign Affairs spokesman Raul Hernandez said that the aircraft carrier's deployment raises tension and violates the Declaration on the Conduct of Parties in the South China Sea (DOC) and warns that it must not violate international law – particularly that of the United Nations Convention on the Law of the Sea (UNCLOS). 
Hernandez added that the deployment should only be for "peaceful purposes."
"Its deployment does not contribute to regional stability," Hernandez said. "Instead, [it] serves to threaten the status quo."
Chinese state news agency Xinhua reported on Tuesday, November 26, that Beijing's sole aircraft carrier departed for its first ever sea trials in the South China Sea.
The aircraft carrier was accompanied by two destroyers and two missile cruisers which make up a standard aircraft carrier battle group.
China's sole aircraft carrier is a a refurbished vessel purchased from Ukraine and named "Liaoning." It went into service in September 2012. 
Such developments follow Beijing's recent establishment of an Air Defense Identification Zone (ADIZ) over the East China Sea, an area that contains disputed islands known as Diaoyu in Chinese and Senkaku to its Japanese claimants.
US, Japan say no
Beijing is requiring all international aircraft passing through the ADIZ to make themselves known to Chinese authorities and issue a flight plan – an order that Japan immediately rejected. (READ: Japan's Abe calls air defense zone dangerous)
On Tuesday, two US B-52 bombers flew over a disputed area of the East China Sea without informing Beijing, challenging China's bid to create an expanded air defense zone. (READ: US challenges China's air defense zone)
Australia also expressed concern on the matter and summoned the Chinese Ambassador to Australia for an explanation.  
The White House, meanwhile, denounced China's move, calling it "unnecessarily inflammatory."
The US went on to provoke China's move to assert sovereignty over the disputed areas by letting two of their B-52 bombers fly over the zone.
The two bombers reportedly took off from the Anderson Air Force Base in Guam as part of an ongoing training program the US called Coral Lightning Global Power Training Sortie.
The US government said the exercise was planned way before China's establisment of the ADIZ.
Aside from the Daioyu/Senkaku dispute with Japan, China is engaged in territorial disputes with several other countries.
China claims virtually the whole of the South China Sea where the Spratlys, the Paracel Islands, and the Macclesfield Bank are located, earning the ire of the Philippines, Taiwan, Malaysia, Vietnam, and Brunei which claim some of the island territories and land features included in the three areas. – Rappler.com