Japanese defense minister Itsunori Onodera will return to the Philippines next week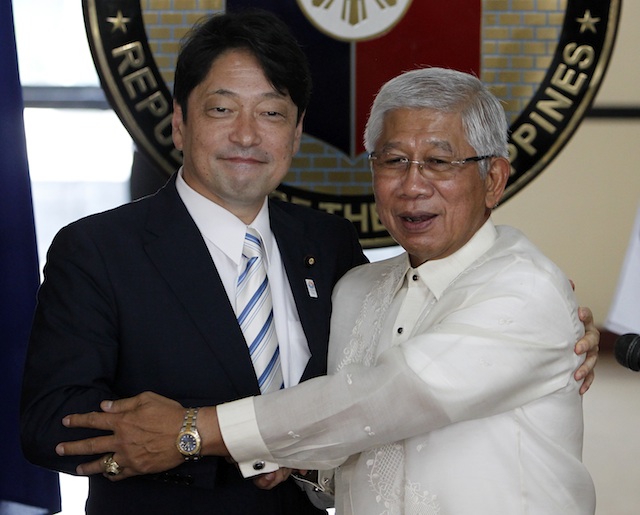 MANILA, Philippines — Japanese defense minister Itsunori Onodera will come to the Philippines next week to meet with Philippine Defense Secretary Voltaire Gazmin at a time when China is stirring up regional tensions with its air defense zone policy.
Onodera will be visiting Japanese troops involved in humanitarian assistance operations for the victims of typhoon Yolanda, but Gazmin acknowledged the revived tension between China and Japan may be brought up.  (READ: China creates air defenze zone over Japan-controlled islands)
"It's a free-flowing discussion. There is no fixed agenda," Gazmin told reporters on Friday, November 29.
Onodera also visited the Philippines in June. He then pledged to help the Philippines defend territories in the West Philippine Sea (South China Sea).
On Friday, the state-run media Xinhua news agency said Beijing sent fighter jets and an early warning aircraft into its newly declared air defense zone, which covers disputed islands claimed by China but controlled by Japan. (READ: China sends fighter jets into air zone)
China wants foreign aircraft to provide a flight plan if they want to fly over the disputed area. (READ: Japan cites 'cooperation' with PH amid China tension and Japan vows to help PH amid China sea row)
The Chinese planes had conducted normal air patrols on Thursday as "a defensive measure and in line with international common practices," said Shen Jinke, spokesman for the People's Liberation Army (PLA) Air Force, according to Xinhua.
Shen said China's air force would remain on high alert and take measures to protect the security of the country's airspace, Xinhua reported.
Japan and South Korea said Thursday they had defied the air defense identification zone (ADIZ), showing a united front after US B-52 bombers did the same. 
'Dangerous'
The Philippines has joined other countries in opposing China's "dangerous move."
"Dapat consistent 'yan sa mga international flight safety rules and practices. Dapat nag-i-identify ka lang kapag pumapasok ka doon sa territorial airspace. 'Yun magpapaalam ka. Pero outside that, hindi ka dapat," Gazmin told reporters on Friday. (It should be consistent with international flight safety rules and practices. You only identify yourself if you're entering territorial airspace. If it's outside, you don't.)
"Hindi dapat gawin 'yung ganitong ginawa ng China dahil nagiging dangerous ito. Baka magkaroon pa ng insidente na hindi maganda," Gazmin added. (China shouldn't do that. It's dangerous. It might result in an ugly incident.)
Gazmin also said they're closely monitoring China's deployment of an aircraft carrier to the South China Sea even if President Benigno Aquino III said it was not a threat. (READ: Aquino on China carrier: Not a threat)
"We are monitoring. We are closely monitoring and closely coordinating with our allies," Gazmin told reporters.
Common sense
The Philippines has sought the help of its ally, the United States. The 2 countries are negotiating a military-to-military agreement that will allow increased rotational presence of American troops here. 
Gazmin hopes that international protests against its air defense zone will deter China from expanding it to the West Philippine Sea.
"We've seen the reaction of other countries…. Common sense will tell you that you should not commit the same mistake – if they recognize that as a mistake. We will have to wait and see but based on the reaction of several countries, it was not taken well," Gazmin said.
China is locked in territorial disputes with the Japan, Philippines, Vietnam, Malaysia, Taiwan and Brunei among othres. — Rappler.com