This gives Congress enough time to discuss even the proposed supplemental budget for calamities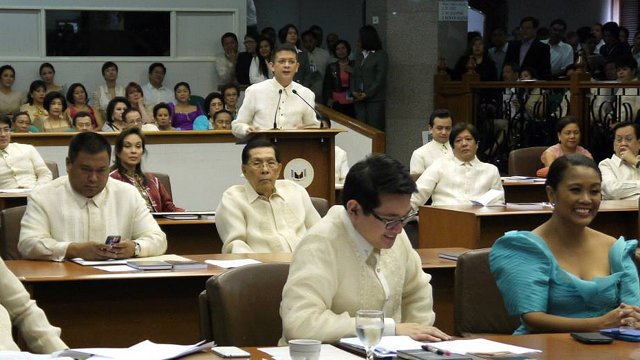 MANILA, Philippines – Just one day.
The bicameral conference committee hopes it will only take this long to discuss the proposed 2014 budget on December 9, Senate Finance committee chair Francis "Chiz" Escudero said on Saturday, November 30.
In a radio interview with dwIZ, he said the budget will be deliberated on the second Monday of December instead of the first, as agreed upon with the House of Representatives.
"We are having pre-bicam [meetings] to speed up the bicam. Hopefully the bicam will be one day only," he added.
This is also to give enough time for both chambers of Congress to discuss the proposed supplemental budget for calamity-related works and submit validated damage reports to be included in the budget.
On Tuesday, November 26, all 16 senators approved the P2.2648 trillion national budget for 2014, allocating P100 billion for the calamity and rehabilitation fund. (READ: Senate OKs budget, P100B for calamities)
The calamity fund is separate from the P14.6 billion supplemental budget for 2013 lawmakers are planning to pass.
"We are now eyeing the passage of a supplemental budget for 2013 – and we will thereafter urge the President to certify it as urgent," Drilon said in a statement on Tuesday, November 19. (READ: Use scrapped PDAF for disaster aid – solons)
The Lower House will focus on approving the proposed supplemental budget on Monday and Tuesday (December 2 and 3), Escudero said.
His committee is still waiting for validated damage reports from concerned government agencies, plus the amount required for repair which will have to be reflected in the 2014 budget proposal.
As earlier mentioned by Budget Secretary Florencio Abad, a clear plan on how the rehabilitation plan will be funded must have already been presented to President Benigno Aquino III by Friday, November 29. (READ: Aquino wants 'specific details' on Yolanda rehab plan)
The bicameral conference committee will likely finish on December 10 at the latest. – Jee Geronimo/Rappler.com