US Ambassador Philip Goldberg wants to push PH-US ties to the 'next level'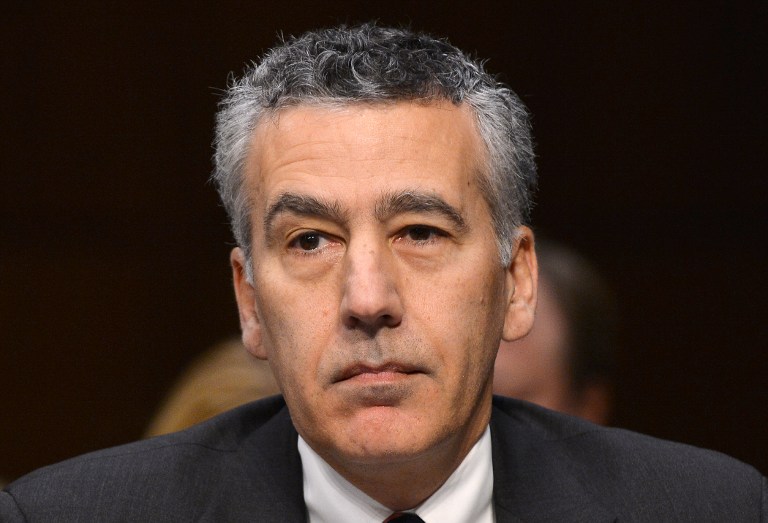 MANILA, Philippines – Like the Philippines' top diplomat, the United States' new ambassador to the country on Monday, December 2, cited Super Typhoon Yolanda (Haiyan) to justify his top priority – increasing his country's troops in the Philippines.
US Ambassador to the Philippines Philip Goldberg pushed for the increased rotational presence of US troops after presenting his credentials to President Benigno Aquino III.
In a briefing with reporters on Monday, Goldberg said a framework agreement on this will bring Philippine-US ties to the "next level."
"It's important for the Philippines, I think, as we saw with Super Typhoon Yolanda, to have an even greater ability to provide for humanitarian assistance and disaster relief. The ability to have that a little bit faster and more efficiently will always be of help. There are reasons to build minimal defense capability and maritime defense awareness. That will come with the framework agreement," Goldberg said.
He said this is his "priority as ambassador here… to broaden and deepen what has already been a very fine relationship." 
The Philippines and the US are currently negotiating a military deal to allow more US troops, aircraft and ships to pass through the Philippines.
But despite months of talks, both panels have failed to sign the agreement.
On the day Goldberg arrived, Philippine Foreign Secretary Albert del Rosario also cited Yolanda to justify increased US presence.
Del Rosario, a former Philippine ambassador to the US, said Yolanda "accentuates the main purposes of the framework." He said humanitarian aid and disaster relief and response, after all, comprise "a very major aspect of the agreement." (READ: DFA: Yolanda shows need for PH-US accord.)
Haiyan 'not a justification'
Critics slammed Del Rosario's stand.
Senate Minority Leader Juan Ponce Enrile said Yolanda is not enough to justify increased US rotational presence. (READ: Enrile: Yolanda not justification for US-PH deal.)
Enrile said we "do not always have that kind of a problem" in the first place. "Otherwise, the anticipation of such a disaster or any contingency will be a justification for the presence of other troops in the country," he said.
Goldberg arrived nearly 3 weeks after Yolanda devastated the Philippines. Yolanda, the strongest typhoon to hit land, killed at least 5,670 and affected over 11 million people.
Goldberg, who replaced Harry Thomas Jr as US ambassador to the Philippines, is a career diplomat.
He served as US ambassador to Bolivia from 2006 to 2008, when Bolivia expelled him for alleged conspiracy "against democracy." The US dismissed this claim. (READ: New US envoy Goldberg arrives in Manila.)
In a briefer released in August, the Department of Foreign Affairs (DFA) described increased rotational presence as "the policy that increases the presence of United States forces on a rotational basis in Philippine territory toward the development of a minimum credible defense posture." (READ: FAQs: Boosting US troops' presence in PH.)
The proposal comes as Washington begins to shift most of its troops to the Asia-Pacific, to counter a rising Beijing. (READ: Rebalancing the US pivot to Asia.)
At the same time, the Philippines engages in a historical legal battle with China over the disputed West Philippine Sea (South China Sea). – Rappler.com