The negotiations resume after the US military's impressive response to the Philippines' call for help after monster typhoon Yolanda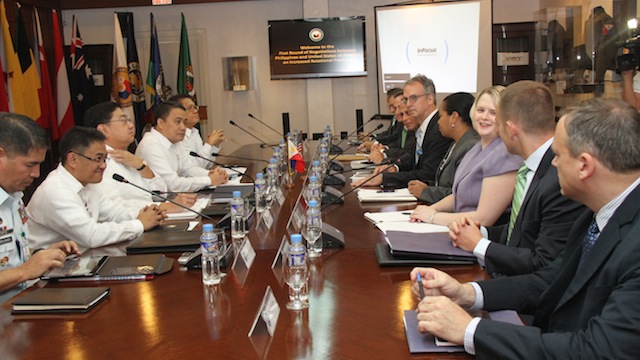 MANILA, Philippines — After a difficult 4th round in October, the Philippines and the US are back in the negotiating table to finalize a military-to-military agreement that will allow American troops increased rotational presence and more access to military bases in the Philippines (READ: PH, US bases access talks reach 'impasse) 
"We're looking to have the remaining issues discussed. As we speak, there is a 5th round that's taking place in the United States. So we're hopeful that there will be a final conclusion in the signing," Foreign Affairs Secretary Albert Del Rosario told reporters after his professional lecture in Ateneo de Manila University Tuesday night, December 3.
The negotiations resume after the US military's impressive response to the Philippines' call for help after monster typhoon Yolanda (Haiyan) killed thousands and flattened towns and cities in the Visayas. Its effect on the negotiations remains to be seen.
Will PH give in?
The previous round did not go too well because of disagreements on "critical provisions." (READ and WATCH: 4th ROUND: PH, US disagree on critical provisions)
The Philippines panel allowed the US to construct "temporary" facilities in the Philippines, but the US wants to limit the access of Filipino troops to these facilities. 
"We want access to both. It should not be limited to them. We want equal opportunity and equal access," Philippines defense secretary Voltaire Gazmin told reporters in November.
The Philippines has sought the assistance of US, a treaty ally, against the backdrop of rising tension with China over maritime disputes in the West Philippine Sea (South China Sea).
Tension escalates as China creates an air defense zone over Japan-controlled islands. Gazmin said he hopes international protests against it would deter China from expanding it to the West Philippine Sea (South China Sea). (READ: Philippines closely coordinating with allies amid tensions)
While the US claims neutrality over the territorial disputes, it wants a "peaceful resolution" of the conflict and supports the code of conduct between China and ASEAN.
The Philippines is also acquiring critical assets to improve minimum credible defense in the West Philippine Sea. 
Philip Goldberg, the new US ambassador to the Philippines, also highlighted how typhoon Yolanda also showed the benefits of more US troops in the country.
The US military sent unique capabalities that played critical role in speeding up response especially in the early days of they typhoon aftermath. The US ended its mission for Yolanda relief efforts on Sunday, December 1.
Balikatan 2014
The US and the Philippines have also begun preparations for Balikatan 2014, an annual training activity between the two militaries.
The exercises will be conducted at Fort Magsaysay in Nueva Ecija. They are currently surveying and inspecting the Special Operations Command's (SOCOM) training areas and facilities where the military bilateral exercise are expected to be held next year. 
Previous Balikatan exercises focused on war fighting, territorial defense capability enhancement, interoperability, and humanitarian disaster response. — Rappler.com