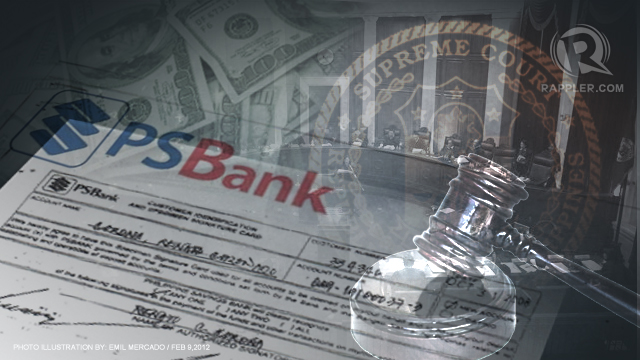 The Ombudsman was able to do what the impeachment court could not (or not yet): access impeached chief justice Renato Corona's dollar accounts. In an exclusive report of Rappler, the Ombudsman's access to the foreign currency deposit had 2 key aspects: a general waiver at the back of the Statement of Assets, Liabilities and Networth (SALN) that public officials, including those from the Supreme Court, submit to the Ombudsman, and; the anti-graft office's access of public official's bank accounts through the Anti-Money Laundering Council (AMLC). The Ombudsman's probe of Corona's assets was triggered by 3 complaints citing alleged violations of anti-graft and anti-money laundering laws. Corona's lawyers question the Ombudsman's jurisdiction. They also admitted they were in the dark about this issue since Corona handled the Ombudsman's probe on his own.

Read on how Ombudsman got access to Corona's dollars accounts on Rappler.

Read more on the Corona's defense lawyers' position about the Ombudsman probe on Rappler.