The retired Army general calls a press conference after stinging accusations that his office has stopped counting the casualties of Typhoon Yolanda to avoid embarrassing President Aquino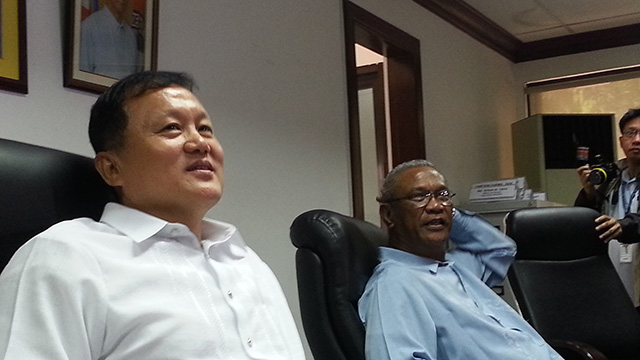 MANILA, Philippines – The combative retired Army general called a press conference after stinging accusations that his office, the National Disaster Risk Reduction and Management Council (NDRRMC), is underreporting the number of Typhoon Yolanda (Haiyan) casualties to avoid embarrassing President Benigno Aquino III. 
"On the day that someone can prove that, I am willing to resign as the executive director of the council and administrator of the Office of Civil Defense," NDRRMC Executive Director Eduardo Del Rosario told reporters. 
"I am saying this to show you our sincerity and the truthfulness of our reports. We are not hiding anything. Definitely, there are no instructions to downplay the number of casualties," he added.
Aquino initially downplayed the impact of Yolanda, saying that the actual death toll would be around 2,500. The earlier estimate of 10,000 came from someone who suffered "emotional trauma," Aquino told CNN's Christiane Amanpour on November 12.
Latest: 5,759 dead
Almost a month since Yolanda devastated towns and cities in Visayas, NDRRMC placed the death toll at 5,759. But they're not done counting yet. 
NRRMC reported at least 26,200 were injured and 1,779 remain missing. Yolanda displaced 4 million Filipinos, of whom about 100,000 are still staying in various evacuation centers nationwide. Others are living with families and friends. 
The total cost of damage from the typhoon was pegged at over P35 billion.
NDRRMC has been slow to update its casualty reports, especially in hardest-hit Tacloban City. The count stalled initially until Department of the Interior and Local Government Secretary (DILG) Manuel Roxas II arrived in Manila on Week 2 to hand over the report to NDRRMC.
Del Rosario said they have to wait for official reports signed by mayors and municipal or city health officers. These are the reports they add to the official NDRRMC casualty report, he noted.
100 bodies floating under San Juanico Bridge?
There's new confusion over the death toll following reports of a hundred bodies found in mangroves under the San Juanico Bridge, which connects Samar and Leyte islands. 
Del Rosario belied the reports. He said only 10 bodies were recovered. The confusion, he said, highlights why NDRRMC has to be careful in updating its numbers to avoid duplication. 
"These bodies were recovered in barangay Anibong in Tacloban City. Someone reported that an eyewitness found them in the mangroves. Task Force Cadaver went to the area and found 10 bodies," Del Rosario said. — Rappler.com