(UPDATED) President Aquino will take this up with Tokyo December 12-15 in the wake of growing tension in the West Philippines Sea. He is sending the Vice President to attend Mandela's funeral.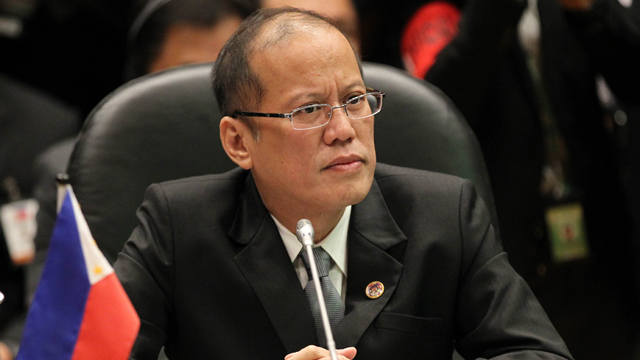 MANILA, Philippines (UPDATED) – President Benigno Aquino III is leaving for Japan for the ASEAN-Japan commemorative summit scheduled December 12-15, where the two countries will discuss a possible defense treaty.
He is sending Vice President Jejomar Binay to South Africa for the December 15 funeral of South African statesman Nelson Mandela. 
Aquino said he is open to a possible defense treaty with Japan in the wake of growing tension in the West Philippines Sea (South China Sea).
Japanese defense minister Itsunori Onodera on Saturday, December 7, told reporters in Manila they are looking at a "framework agreement" to be able to deploy troops faster in situations like Yolanda. (READ: After Yolanda, Japan wants deal with PH to 'deploy troops faster')
"We are certainly open to discussions…. May I remind everybody, there are only two strategic partners for the Philippines – that is, the United States of America and Japan. I don't recall a defense treaty with Japan. I do recall a defense treaty with America," Aquino said on Monday. 
"So will that be part of the talks? Siyempre (Of course), anything that creates tension and instability is a concern for all. Everybody should be focused on maintaining a stable region so that we have the necessary milieu for expanding economies to the benefit of all our peoples," he added.
In his visit to Manila, Onodera highlighted the need for a peaceful resolution of the regional conflict as various countries expressed concern over China's Air Defense Identification Zone (ADIZ), which it established over Japan-controlled islands in the East China Sea. (READ: Japan defense minister back in PH to discuss regional tension)
The US is the only treaty ally of the Phiilppines. The two countries are negotiating a military-to-military agreement to allow increased rotational presence of US troops in the Philippines and give them more access to military bases.
Japan also vowed to help the Philippines defend its terrority. (READ: PH 'closely coordinating with allies' amid tensions)
Meanwhile Binay is leaving Monday night, December 9, to bring the President's letter of condolences for the bereaved family of Mandela.
"I will leave tonight to extend our sympathies to the people of South Africa on the passing of their revered leader, former President Nelson Mandela. The government and the people of the Philippines stand with them at this hour of their great loss," Binay said in a statement. 
A number of political leaders, former world leaders, global figures, and celebrities will be attending the state funeral for the African nation's first black president.
Additional aid
Aquino will also seek more aid when he meets with Japanese Prime Minister Shinzo Abe, more than a month after Super Typhoon Yolanda (Haiyan) killed thousands and left millions homeless.
The two leaders are expected to witness the signing of "exchanges of notes", including a post-disaster standby loan worth about 10 billion yen ($100 million), Foreign Affairs spokesman Raul Hernandez said Monday.
"During the meeting the two leaders will discuss cooperation on disaster management and reconstruction in the wake of Typhoon Haiyan," Hernandez said.
Yolanda slashed through the central Philippines on November 8, making it the strongest ever recorded typhoon to make landfall.
Tidal surges triggered by Yolanda wiped out entire coastal communities. In its latest report Monday, the National Disaster Risk Reduction and Management Council (NDRRMC) said the death toll had climbed to 5,924, with more than 1,700 others known to be missing.
Nearly 4 million people were also displaced, and getting aid to those affected by the disaster remains a challenge, officials and survivors say.
Post-typhoon rehabilitation is also expected to be among the regional issues on the table.
Last week, the United Nations' refugee agency launched a fresh appeal for emergency aid from international donors, saying it needed $19.2 million, more than double the $8.2 million it had raised so far.
The Philippine government said it had received total foreign pledges of up to $484 million. Of that total, only $12.13 million has so far been received. – Carmela Fonbuena, with reports from Agence France-Presse/Rappler.com