The Department of Budget and Management is required to give the High Court 'a list of all sources of funds brought under the DAP and the uses of such funds pursuant to DAP per project or activity'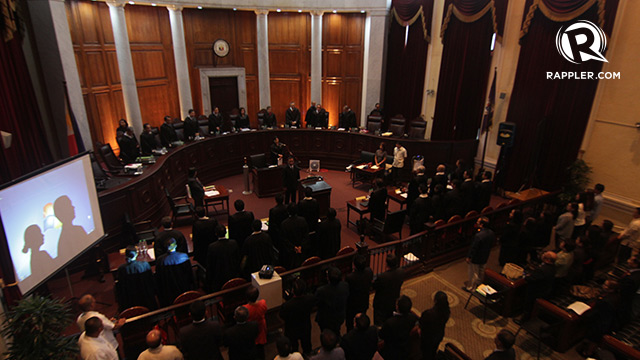 MANILA, Philippines – The Supreme Court (SC) asked the Department of Budget and Management (DBM) to submit to the Court "a list of all sources of funds brought under the DAP and the uses of such funds pursuant to DAP per project or activity."
It should be submitted by January 21, 2014. 
The High Court granted on Monday, December 9, the request of the Senate and the House of Representatives to postpone oral arguments on the legality of the controversial Disbursement Acceleration Program (DAP).
Originally scheduled on Tuesday, December 10, the oral arguments will be held next year. It will held 2 pm on January 28. 
"The Court took note of the uniform reason given by both chambers for the resetting. Both Chambers of Congress have found it necessary to be represented by counsel separate from the Solicitor General of the Philippines and thus would need additional time to engage such counsel and for counsel to prepare for the oral arguments," reads the SC decision. 
The two chambers of Congress will need to notify the High Court within 10 days the names of their chosen counsels. 
There are 3 petitions, now consolidated, questioning the legality of the government's spending acceleration program.
The DAP came under fire after constitutionalists questioned its legality. The likes of Senator Miriam Defensor Santiago, former Senator Joker Arroyo, constitutional framer Fr Joaquin Bernas Jr, andformer Budget Secretary Benjamin Diokno have said that the DAP was an "invention" of the executive branch and had no legal basis.
The Constitution provides that government budget must come from Congress; the President is empowered to realign savings from implemented programs.
The DAP attracted controversy after the budget department admitted allocating it to lawmakers – supposedly to address slow economic growth, but which had been interpreted by critics as a bribe. – Rappler.com