'More or less 7 suspects' used a hammer and a crowbar, bought at ACE Hardware Store in the same mall, to break jewelry display cases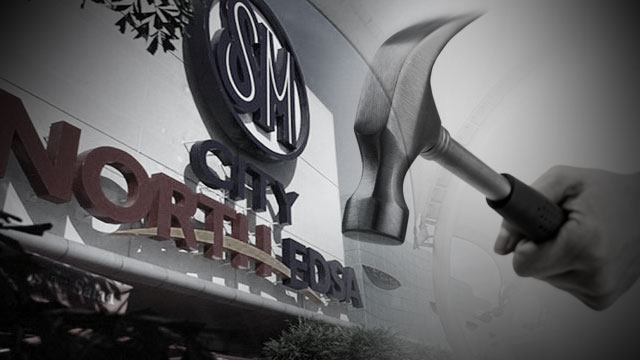 MANILA, Philippines (UPDATED) – The "martilyo (hammer) gang" which robbed a store inside SM North EDSA on Sunday night, December 15, took advantage of the Christmas shopping rush and evaded arrest by escaping through a panicking crowd.
On Monday, Investigator PO3 Erickson Isidro said that there were "more or less 7 suspects" involved in the robbery incident inside the mall's department store at around 7:15 PM.
The suspects used a hammer and a crowbar, bought at ACE Hardware Store in the same mall, to break jewelry display cases at the department store.
After quickly hauling jewelry – the amount of which is yet to be determined – the suspects escaped by mixing with panicking mallgoers. No one was hurt in the incident, said SM management.
Isidro said that they are still verifying reports that gun shots were heard during the commotion.
Interior Secretary Mar Roxas also on Monday agreed the timing of the robbery on a Sunday evening helped the robbers.
"This would be one of those vulnerable times, because with the huge volume of people in malls, security personnel may not be able to run after suspects fast enough because the crowd may block their pursuit," he observed.
Roxas expressed optimism about the probe, adding SM North Edsa's CCTV system captured much of the action which will be crucial to the investigation.
"Firstly, the CCTV system of SM is nice and the faces [of the suspects] are clear. Secondly, the CCTV system is extensive so even their purchase of the hammer and the crowbar were captured as well," he said.
"It's very clear who bought these items and it's also very clear who hit and broke the shelves… stills are now being extracted from the video and these will be compared to other stills that were taken from SM Megamall."
He said the stills, in addition to the crowbar and hammer left at the scene, would be used by the police in its manhunt.
Best practices
A day after the robbery, the Philippine National Police (PNP) is set to meet with mall owners to review best security practices. Roxas gave assurances the PNP is already looking at ways to improve security to prevent the incident from happening again.
He said that the Philippine National Police (PNP) and the National Capital Region Police Office (NCRPO) will meet with mall owners in Metro Manila to formulate a system of information-sharing and to review security procedures in shopping malls.
"Pictures [from the scene] will be seen and shared. Security will be put on alert. We will count the number of security guards and review their training in every establishment," he said.
Roxas said they would discuss what effective measures work for malls that can be shared to other malls, the best ratio of security guards per square meter, and the type of training that is most effective.
He however refused to say there was a lapse in judgment by the security just yet, although Roxas did say it appears security may not have learned from an incident that happened in Megamall in January with a similar modus operandi (MO).
Criticisms
Roxas also defended himself from criticism for going to SM North Edsa immediately after the robbery. Hours after the incident, President Benigno Aquino III and Roxas visited the crime scene to personally check the situation.
The visit drew criticism from netizens who wondered if it were necessary. Both were also criticized a few months prior, for immediately showing up at a crime scene in Serendra, when a gas pipe exploded killing 3 people on the spot.
"I think the criticism is really part of my job. It's better to be criticized that we went rather than be criticized for not going. There are only two possibilities. So it's okay that we're criticized that we went to an incident where in some of our countrymen were put in danger," he said.
Malacañang also defended Aquino's presence, arguing he was there because he "wanted to ensure there would be proper investigation." – Rappler.com