The justice secretary, herself a former election lawyer, says a mere letter to agencies cannot remove officials for failure to file their campaign spending reports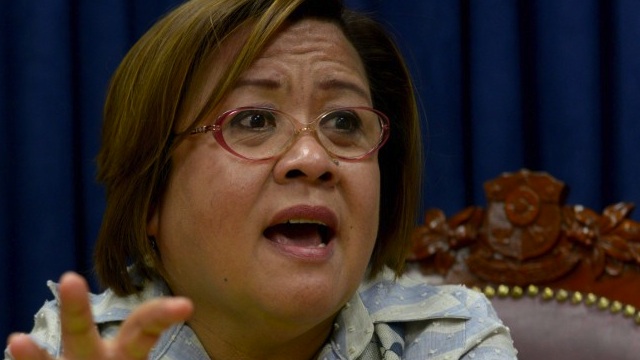 MANILA, Philippines – Mere letters cannot remove local officials who failed to submit campaign spending reports.
Justice Secretary Leila de Lima reminded the Commission on Elections (Comelec) about this, and advised the poll body to instead file quo warranto proceedings against the negligent elected officials.
In an interview with reporters on Tuesday, December 17, De Lima said she submitted a memo opinion to the President after Comelec issued an order for 424 local officials to vacate their offices for their failure to submit their Statement of Election Contributions and Expenditures (SOCE), not using the prescribed forms for their reports, or not signing the SOCE themselves.
Election lawyer George Garcia told Rappler earlier, however, that the poll body doesn't have the authority to unseat sworn-in officials based on deficiencies in their SOCE.
Garcia said: "Law and jurisprudence are clearly against the Comelec on this action. Comelec jurisdiction ends once [candidates] are proclaimed and serving."
De Lima shared this opinion. A former election lawyer herself, she said the only legal remedy to remove these already-elected officials is through the filing of quo warranto proceedings, which will hold them ineligible to continue holding office.
A total of 155 officials, including 4 congressmen, did not submit their SOCE. There were 104 officials on the list who did not personally sign their SOCE, while 165 did not use the prescribed form.
The poll body sent letters to Secretary Manuel Roxas of the Department of the Interior and Local Government (DILG) and House Speaker Feliciano Belmonte Jr. to implement the order.
While Roxas was willing to implement the Comelec order, Belmonte said the poll body was "OA" (overacting), and just called on congressmen to show proof they submitted documents, or to correct the papers they submitted.
"A mere letter is not enough, does not suffice. It has to be a decision or resolution in proper proceedings," De Lima said
The justice secretary also identified where the quo warranto cases should be filed:
Comelec, for city and provincial officials
Regional Trial Court, for municipal officials
House of Representatives Electoral Tribunal, for representatives
Senate Electoral Tribunal, for senators
"The Comelec cannot just ask the assistance of DILG or the speaker of the House of Representatives to order officials concerned to vacate. It's not as easy as that," De Lima said.
No guidelines?
De Lima also noted the lack of guidelines in ensuring that all winning candidates have submitted their SOCE.
She stressed that Republic Act 7166 and a memorandum signed by DILG and Comelec already identified SOCE as a requirement before allowing one to run for public office.
RA 7166 states that all candidates, winning or losing, have to submit their SOCE within 30 days after the day of election, and that winning candidates shall not assume office without submitting the SOCE.
In March 2012 – more than a year before the mid-term elections – Comelec and the DILG even signed a memorandum of agreement, requiring winning candidates in local races to show the DILG a certification from Comelec that they had submitted their SOCE before they could assume their posts.
"I am afraid they did not [come up with proper guidelines] because they're just doing it now," De Lima said.
The justice secretary shared the position of officials earlier interviewed by Rappler, who said the Comelec should have checked its record-keeping system and sent prior notices before issuing the orders. – Rappler.com