From K to 12 to the collective awareness of the prospects of ASEAN 2015, here are 5 leaps the country has made in education this 2013
MANILA, Philippines – Educators say we're decades late with some of the educational reforms rolled out in 2013, especially as the ASEAN regional integration closes in.
Still, compared to previous years, 2013 was a promising time for education, though not without challenges. The country proved that when it comes to education, political will can take us places.
As the year wraps up, Rappler lists down 5 great leaps in Philippine education. While the list is not exhaustive, it may provide context on where we are now, and how we may fare – do better – in the coming years.
1. The Enhanced Basic Education Act of 2013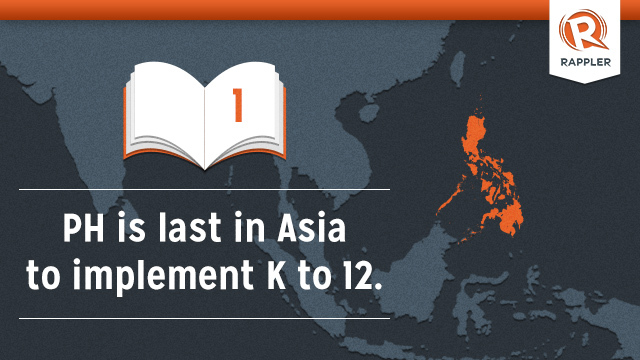 Considered a landmark legislation of 2013, the Enhanced Basic Education Act not only makes mandatory Kindergarten and two additional high school years. It also aims to produce high school graduates ready for different exits: higher education, employment, entrepreneurship, or middle level skills development. (INFOGRAPHIC: 10 things about K to 12)
Through the law's K to 12 program, graduates can also exit globally, President Benigno Aquino III said at the APEC CEO Summit last October.
"We are well on our way to closing resource gaps in terms of classrooms, even as we have already eliminated backlogs for textbooks and armchairs in our public education system. This, on top of a recent law expanding our basic education cycle from ten to twelve years, which we foresee will increase the competitiveness of our graduates in the global arena," he said.
While the Department of Education (DepEd) admits there is still a lot of work to be done, it is for the first time in a long time that they are working closely with both the Commission on Higher Education (CHED) and the Technical Education and Skills Development Authority to cushion the full impact of the change in 2016, when the first batch of senior high school students comes in. (READ: Senators ask: Are colleges ready for K to 12?)
2. Closing backlogs as promised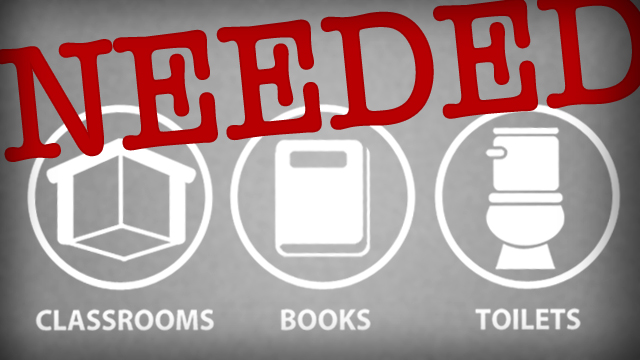 Will the government's effort to address classroom shortages be affected by Typhoon Yolanda (international codename: Haiyan)? Education Secretary Armin Luistro said that as long as the number of damaged classrooms remained at around 4,000, they may still be able to keep their promise to the President to clear the 66,800 classroom backlog in 2010.
"If only 4,000 [classrooms], no, because some of the construction [are] actually in those 4 regions anyway. So it was just slightly reprogrammed. But as we get more data – hopefully, the damage is not bigger – it may be affected," Luistro said early December. (READ: DepEd to miss target in building needed classrooms)
As of Friday, December 20, the department said 62,336 classrooms have been completed and 4,464 are being constructed.
Almost half of the backlog in water and sanitation facilities in schools has also been completed, with 70,532 undergoing procurement and 6,978 already included in the 2014 budget.
As for the shortage on teachers, textbooks, and classroom seats, the department claims these have been addressed.
3. Empowering education
The biggest pie of the 2013 national budget went to DepEd – a whopping P232.60 billion or a 22.8% increase from the previous year. Next year, the department will also enjoy its biggest budget in history – a projected P337.9 billion. (READ: Aquino signs P2.265-T 2014 budget)
State universities and colleges (SUCs) also got a substantial budget boost, from P25.85 billion in 2012 to a P32.77-billion allocation this year. Next year's budget of P38.07 billion, however, shows a minimal increase, but only because the 2013 budget "is truly an unusual situation," CHED Chairperson Dr Patricia Licuanan said.
4. Anti-Bullying Act of 2013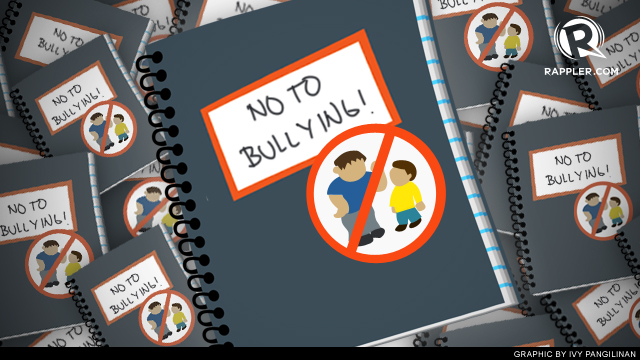 In an age where bullying now persists outside the confines of a classroom and in the realm of social media, the Anti-Bullying Act of 2013 could not have been timelier. (READ: The road to a bully-free Philippines)
Last September, Aquino signed the law, requiring schools to adopt policies that will not only detect existing bullying incidents but will also prevent them from happening. The department considers it a "landmark piece of regulation," which will "develop schools into learner-centered institutions." (READ: Aquino signs anti-bullying law)
5. Regional, international consciousness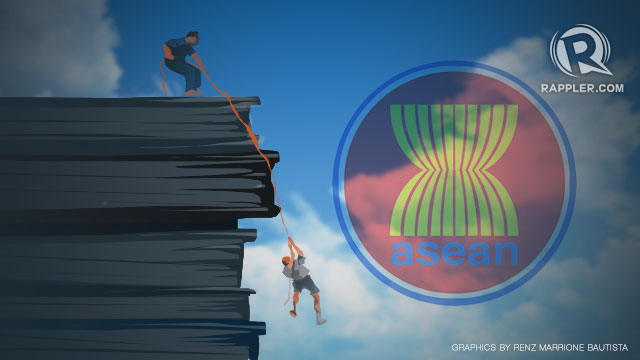 This year, some of the country's top universities started considering shifting their academic calendars to synchronize with educational partners both from the ASEAN and around the globe.
The University of the Philippines (UP) and the Ateneo de Manila University (AdMU) are aiming for an August school opening, while the University of Sto. Tomas (UST) and the De La Salle University are looking at a September-June academic calendar (READ: 8 ways PH higher education can prepare for ASEAN 2015)
AdMU president Jose Ramon Villarin says synchronization is vital in engaging global partners and improving the research performance of universities. The move is also one step closer to embracing the reality of globalization, with the formation of the ASEAN Economic Community less than two years away. (READ: The road to ASEAN 2015: Why are PH colleges lagging behind?)
UST student publication The Varsitarian quoted CHED Executive Director Julito Vitriolo as saying that "if we are going to align ourselves with the world, we might as well do it now," even if the Commission is not imposing the shift to all higher education institutions. – Rappler.com