Communications Secretary Sonny Coloma says the DOH, NBI and DPWH are 'working closely' with the Tacloban City government to organize the burial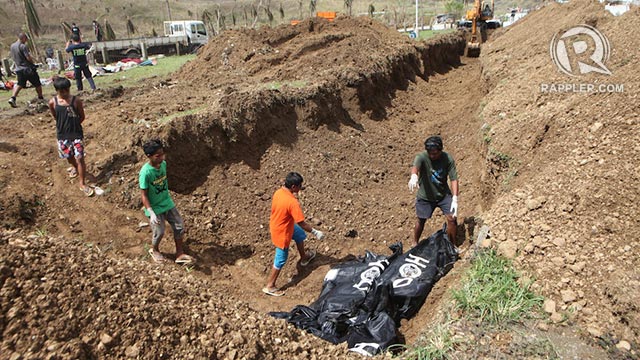 MANILA, Philippines – Almost two months since Super Typhoon Yolanda (Haiyan) hit Central Visayas, the Palace says the Philippine government is working on speeding up the burial of 1,400 bodies.
On Thursday, January 2, Communications Secretary Sonny Coloma said the Department of Health (DOH), National Bureau of Investigation (NBI) and the Department of Public Works and Highways (DPWH) are "working closely" with the Tacloban City government to organize the burial, as reported by rehabilitation czar Panfilo Lacson.
"DOH has sent 1,500 body bags and protective kits for personnel doing the work; DPWH has sent additional backhoes and payloaders; and the NBI has redeployed its forensic team on the ground," Coloma said.
While he called the burial "urgent and important," he said the delay is caused by the procedure for identification.
"If you remember, when the participation of the NBI started, they say they would follow the protocol of the Interpol," he said.
But Coloma said they have asked the NBI if they could make the identification process more efficient. (READ: How to handle corpses during disasters)
"That's what we've agreed on. There's inter-agency coordination, the facilities have been provided and they are focused on speeding up the burial process giving due respect to the remains of those who perished in the calamity," he said.
Coloma however gave assurance the government is focused on the burial, and that it has provided the necessary manpower to complete the task.
The council's spokesman, Reynaldo Balido, said he was unsure if the official death toll already included the unburied cadavers, which currently lie in the farming village of San Isidro.
Yolanda killed 6,111 people and left 1,779 others missing on November 8, according to the National Disaster Risk Reduction and Management Council.
This made the storm, which also left 4.4 million people homeless, one of the deadliest natural disasters in Philippine history. – Rappler.com