This is AI generated summarization, which may have errors. For context, always refer to the full article.
Oral arguments on the case have been set for January 21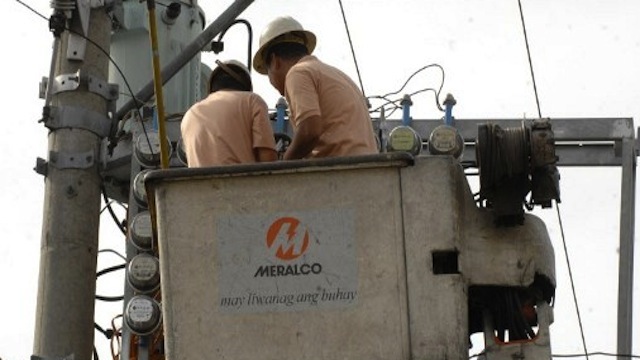 MANILA, Philippines – The Supreme Court (SC) on Friday, January 10, granted the appeal of the Manila Electric Company (Meralco) to include more power suppliers as respondents in the case against Meralco's record-high price hike.
Meralco outlined in a 139-page response-comment submitted at the last minute to the High Court on Wednesday, January 8, power suppliers it wanted named as respondents in the case. Meralco asserted that it was just collecting from its subscribers the increased charges that the power firms billed Meralco.
The SC treated Meralco's counter-petition as a Third-Party Complaint, effectively making Meralco also a petitioner. The oral arguments on the case have been set for January 21.
Two groups of power suppliers were outlined by Meralco. The first included firms it had existing contracts with whose plants simultaneously shut down at the time of the scheduled maintenance shutdown of its major power source, the Malampaya gas field. 
The simultaneous outages forced Meralco to source its power requirements from the Wholesale Electricity Spot Market (WESM) operated by the Philippine Electricity Market Corporation (PEMC).
The other group of power suppliers Meralco outlined were firms that traded in the WESM, which at the time Meralco purchased power from the spot market had a ceiling price of as high as P62/kWh. 
Following public outcry, the price ceiling was eventually lowered to P32/kWh in a joint resolution of the Department of Energy, the PEMC, and the Energy Regulatory Commission. (READ: Senators on lower price market price cap: Why only now?)
Previous SC order 
A previous SC order made a day earlier already named the PEMC and 6 other power firms respondents in the Meralco case. The order was made by the court on its own initiative.
The suppliers the SC first included in the case were based on public records (see document below) that show the 6 firms had existing Power Supply Agreements with Meralco and supplied Meralco with power in November 2013 when the generation costs increased.
These firms – SEM-Calaca Power Corporation, Masinloc Power Partners Corporation, Therma Luzon Inc, San Miguel Energy Corporation, South Premiere Power Corporation, and Therma Mobile Inc – are part of the group whose plants had simultaneous outages.
Supreme Court reference on first order
Rotational blackouts
In the same 139-page document, the power distributor also warned against the risk of not being able to purchase the electricity needed to supply Luzon for the succeeding months if the temporary restraining order on its rate adjustment continues. 
This, Meralco said, can lead to "rotational blackouts" and can even cause the entire power industry to "come to a screeching halt." (READ: 'TRO on price hike puts Meralco at risk')
The 60-day TRO was issued by the SC following two separate petitions against the hike. The petitions were ordered consolidated by the tribunal.
Among the power suppliers listed by Meralco to be named respondents were: the PEMC, First Gas Power Corporation, South Premiere Power Corporation, San Miguel Energy Corporation, Masinloc Power Partners Co. Ltd, Quezon Power (Phils) Ltd Co, Therma Luzon Inc, Sem-Calaca Power Corporation, FGP Corp, and National Grid Corporation of the Philippines, and the ones that trade in the WESM. These include: 1590 Energy Corporation, AP Renewables Inc, Bac-Man Energy Development Corporation/Bac-Man Geothermal, Inc, First Gen Hydro Power Corporation, GNPower Mariveles Coal Plant Ltd Co, PANASIA Energy Holdings Inc, Power Sector Assets & Liabilities Management Corporation, SN Aboitiz Power, Strategic Power Development Corporation, Trans-Asia Power Generation Corporation, and Vivant Sta Clara Northern Renewables Generation Corporation. – Rappler.com