This is the second time that the plebiscite on converting Cabanatuan from a component city into a highly urbanised city has been stopped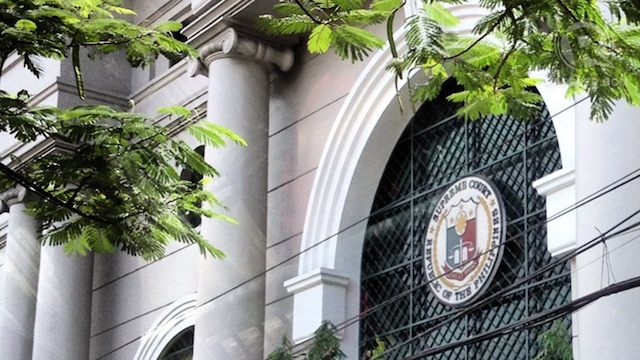 MANILA, Philippines – Residents of the most populous city in Nueva Ecija will no longer vote on January 25 on whether they approve Cabanatuan's conversion from a component city into a highly urbanized city (HUC). 
The Supreme Court (SC) en banc on Tuesday, January 14, issued a temporary restraining order (TRO) on the scheduled plebiscite. 
An HUC status will exempt Cabanatuan voters from casting their votes for provincial posts, according to Section 452c of the Local Government Code.
The conversion is opposed by Nueva Ecija Governor Aurelio Matias Umali, who petitioned the High Court for the TRO.
Umali – a former Lakas regional leader who defected to the Liberal Party – has a strong voter base in the city. He is on his 3rd term as governor.
Incumbent Cabanatuan City Mayor Julius Cesar Jay Vergara, on the other hand, supports the conversion. Vergara is a classmate and party mate of President Benigno Aquino III. 
Cabanatuan voters account for half of the voting population of Nueva Ecija's 3rd District, represented in Congress by Umali's wife Czarina.
Plebiscite history
This is the second time the plebiscite has been postponed. President Aquino issued a proclamation in 2012, declaring Cabanatuan as an HUC, to be ratified through a plebiscite.
The Commission on Elections (Comelec) suspended the scheduled plebiscite in the city in December 2012, however, so as not to burden the poll body during its preparation for the midtern polls of 2013.
This would have been the second plebiscite on upgrading Cabanatuan's status as a city in less than two decades. In 1998, a plebiscite was held after President Fidel Ramos issued a proclamation to make Cabanatuan an HUC, but the voters rejected it. 
The move to convert cities into an HUC is sanctioned by the LGC, which states that a city can be accorded HUC status if it's NSO-certified population reaches at least 200,000 and its income at least P50 million.
City officials say that Cabanatuan City has a population of 259,267 as of 2007, and has an annual regular income of P235 million at 1991 constant prices.
Key province
The gubernatorial post in Nueva Ecija is a highly contested one. (READ: Pol rivalry in Comelec-controlled Nueva Ecija)
With over 1.3 million voters, Nueva Ecija is a major player especially in the delivery of votes for national candidates.
Nueva Ecija is one of 4 provinces tagged as an election hot spot for 4 consecutive elections now. 
In 2009, the province received P1.2 million in Internal Revenue Allotment, the 10th highest in the country. – Rappler.com