This is AI generated summarization, which may have errors. For context, always refer to the full article.
Usually, parents or older family members are involved in the prostitution of minors, but children won't speak against them, making prosecutors' job harder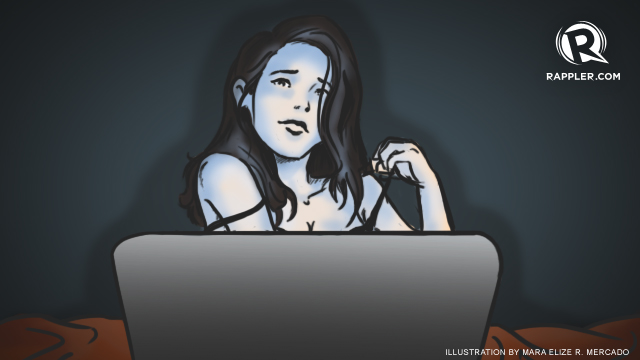 MANILA, Philippines – The National Bureau of Investigation (NBI) said on Thursday, January 16, it has information from a local unit in the Visayas that the "cash for cybersex" scheme is a growing trade.
NBI Anti-Human Trafficking Division chief Dante Bonoan said syndicates have shifted tactics, moving from contained areas to different homes to create cybersex dens.
Previous raids by authorities targeted specific areas, based on information from the United States (US) Immigration and Customs Enforcement (ICE).  
"Now, the operations are dispersed. Perhaps the syndicates foresaw that if we conduct a raid in an establishment, at least it won't cripple the entire operation," he explained in Filipino. 
Bonoan said online sexual exploitation is "widespread" and has become a "cottage industry," confirming reports from local non-governmental organizations that do anti-trafficking work.
News of Philippine online prostitution hit international headlines after United Kingdom's National Crime Agency (NCA) revealed on Thursday details of an international investigation on the matter. (READ: International police probe PH child sex abuse ring) 
UK's NCA, the US ICE, and the Australian Federal Police were engaged in the joint investigation that led to the crackdown of a pedophile ring which streamed live sexual abuse of Filipino children over the Internet.
Family dynamics
It is possible there is a local financier of the trade, said Bonoan.
He explained that the cybersex dens are located in depressed areas, which makes one question how the local households could afford multiple computers and an internet connection.
In most cases, he added, the parents or an older family member is involved in the prostitution of a minor.
"Dahil nga sa kakulangan ng trabaho, sa ganoong paraan sila nakakakuha ng pagkain," he said. (Because of the lack of jobs, they find money to feed their family in that way.)
This setup also serves as challenge to state prosecutors, said Bonoan, citing children who are afraid to speak out against their own families.
"They will speak, but it will be hard to get evidence that we can use in court," he said. 
Community mindset
The NBI intends to identify the exploiters who push children to engage in sexual acts, but cooperation from the community is hard to come by.
Members of the local community are either afraid or they themselves benefit from the illegal trade as an alternative source of income. 
According to a January 15 BBC report that quoted a local police officer, fathers and mothers would bring their children to a cybersex den and would get paid.
"Other people in the community who heard there was money to be made then brought their children too," read the report.
Apathy among community members is also a barrier in trying to gather information regarding local exploiters and traffickers.
"As long as hindi sila naaapektuhan, ayaw nila makialam," he said. (As long as they are not affected, they refuse to meddle in the case.)
Bonoan added there's a need to change the community's mindset toward looking after social welfare, not just their own interests.
Raid and entrapment
A 2012 entrapment by the bureau led to the apprehension of a husband-and-wife tandem allegedly responsible for the online prostitution of minors in Cordova City, Cebu, in the Visayas.
The two were identified as Wilfredo Ontong and Eileen Bentulan Ontong. Eileen was regarded as the "queen" of the local child sex abuse ring.
A quick online search of Eileen's full name shows her various online networking accounts.
Wilfredo and Eileen were charged of qualified human trafficking, child pornagraphy, and child abuse at the Regional Trial Court Mandaue City, Cebu. They were also charged under the Electronic Commerce Act of 2000 or Republic Act 8792.  
Both are now detained in the Cebu Provincial Jail.
In September 2012, 15 victims were rescued. These were children whose photos appeared in a pornographic site.
The exploited children are now in the protective custody of the state. 
Continued efforts
Meanwhile, the Palace said it continues to work towards tackling human trafficking, through the Inter-Agency Commission Against Trafficking of the government, which includes several government agencies and all law enforcement agencies in the country.
On Thursday, as news of the sex ring broke out in international news sites, Presidential Communications Operations Office Secretary Sonny Coloma insisted that even before the recent reports, "the government has already committed itself to doing everything that needs to be done through inter-agency effort, through legislation, and through other administrative measures to stop this trafficking."
He gave assurances the NBI and the DOJ will continue to look into the matter.
"This is a matter of high priority for our government that is not prompted by recent media reports," he said. "I would like to emphasize that our government is determined to stop human trafficking in all its forms and manifestations through concerted action by all concerned government agencies in cooperation with other countries."
Coloma said the sex abuse ring also highlights the importance of the Cyber Crime Prevention Law, which penalizes cybersex and child pornography. The law has since been halted temporarily by the Supreme Court about a month after it was signed into law, following controversial provisions on libel. – Rappler.com