This is AI generated summarization, which may have errors. For context, always refer to the full article.
Justice Secretary Leila de Lima dismisses Revilla's speech as mere insult, insisting her department has solid evidence against him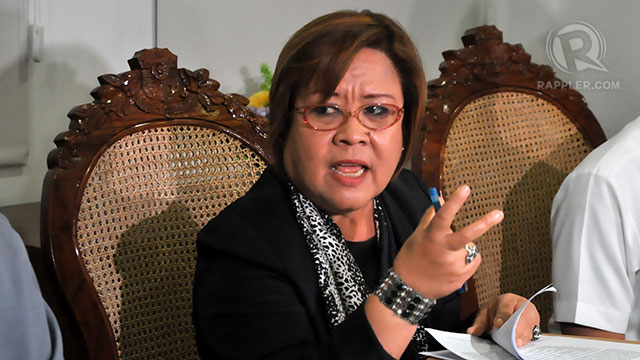 MANILA, Philippines (2nd UPDATE) – Department of Justice (DOJ) Secretary Leila de Lima on Monday, January 20, decried what she said was the attempt of Senator Ramon "Bong" Revilla Jr to belittle the evidence gathered against him by her agency.
"I don't think kailangan patulan yung mga ganoon (I don't think that deserves a response). How does he know that? And we deny that! We have boxes and boxes of evidence," De Lima said of Revilla's controversial privilege speech in an ambush interview with reporters.
"His strategy was to insult the DOJ output," she added.
In his speech, Revilla appeared to mock what he described as the "truck-truck na ebidensya (trucks of evidence)" against him in the hands of the DOJ, which the department used in filing plunder complaints against him and other public officials.
The lawmaker went to the extent of presenting before the Senate a small toy truck carrying loads of paper. "Ito po ang sinasabi nilang truck ng ebidensya! Sa kagustuhan nilang wasakin aking pagkatao, ganyan nila lokohin ang publiko," Revilla said, showing the toy truck. (This is what they say as truck of evidence. In their desire to destroy my personality, that's how they deceive the public.)
The speech was streamed live online at Rappler and on national television, but De Lima said she was not able to watch it entirely.
"Although, siyempre, ganoon karami yun, because of the required number of copies of documents that are required by the Ombudsman. Even that, talagang marami yung mga documents na sinubmit," clarified de Lima. (Although, of course, it's that many, because of the number of copies of documents that are required by the Ombudsman. Even that, there was really a lot of documents submitted.)
Failed to deliver
The DOJ filed plunder complaints before the Ombudsman against Revilla, former Senate President Juan Ponce Enrile, Senator Jinggoy Estrada, and other public officials for allegedly pocketing their Priority Development Assistance Fund (PDAF) or pork barrel. (READ: Plunder complaints vs Enrile, Estrada, Revilla)
The cases are based on accounts and documents provided by whistleblowers who used to work for alleged pork barrel syndicate Janet Lim Napoles. The senators allegedly siphoned off their pork barrel funds to fake non-governmental organizations of Napoles in exchange for commissions. (READ: Bong Revilla's biggest battle)
Reacting to Revilla's speech wherein he insisted all his money is hard-earned, Levi Baligod, counsel for the whistleblowers, said the "speech was all for show" and called it "for showbiz, all fiction."
He also slammed Revilla's accusation that the witnesses are a political wrecking crew.
"That's baloney. We're not politicians, we don't know anyone in Malacañang. In fact, a Palace functionary even tried to pressure the NBI to go easy on Napoles," he said.
Baligod said Revilla can wash his hands but "not at our expense," and questioned his integrity.
"He should first look at himself in the mirror. Initially he was denying he knew Napoles. When the photos and stories of association came out, then he admits he knew her," he said.
Baligod also pointed out that Revilla denied the accusations but did not explain in detail how his PDAF was used. Revilla branded the whistleblowers as liars, accusing them of faking his and his staff's signatures. He specifically criticized principal whistleblower Benhur Luy, playing a video of his Senate testimony saying he faked lawmakers' signatures upon instructions from Napoles.
"Yes, the signatures were falsified – the witnesses were not denying that – but all these were done with his consent." Baligod said. "He did not explain the misuse of his PDAF. That's the missing element of his speech: Where did his PDAF go?"
Luy hit Revilla for blaming the whistleblowers but staying silent about Napoles.
"Kinasuhan niya kaming mga whistleblowers, bakit hindi nya kinasuhan si Janet Napoles na empleyado lang kami? He exonerated our employer. Dahil ba malapit sila sa isa't isa?" he told Rappler. (He blamed us whistleblowers, why didn't he blame Janet Napoles to whom we are only employees? He exonerated our employer. Is it because they are close to one another?) 
Even Revilla's insistence that his signatures were forged is suspect, said Luy.
"Kinonfirm niya sa COA na original pirma niya, bakit all of sudden sasabihin niya 'di niya pirma
'yun?" (He confirmed to COA that that was his original signature, why is he suddenly saying that's not his signature?)
In his speech on Monday, Revilla denied pocketing public funds and instead spent the bulk of his speech slamming the Aquino administration and its failures, adding the allegations against him is a form of political persecution. – with reports from Buena Bernal and Aries Rufo/Rappler.com