Revilla's lawyer Joel Bodegon says principal whistleblower Benhur Luy also faked the senator's letter to COA confirming the authenticity of his signatures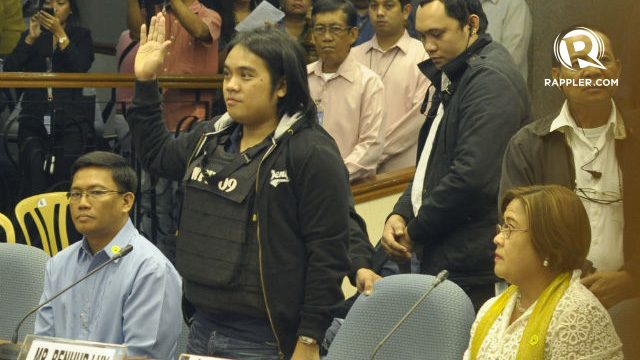 MANILA, Philippines – Senator Ramon "Bong" Revilla Jr's lawyer accused Benhur Luy, the principal whistleblower in the multibillion peso pork barrel scam, of faking the senator's letter to the Commission on Audit (COA) confirming the authenticity of his signatures.
Lawyer Joel Bodegon said the letter belying Revilla's claims of forgery was also fictitious. The lawyer called the letter void confirmation and non-binding.
"Ang totoo niyan, ang ipinagmamalaki nilang confirmation letter daw na pinirmahan ni Senator Bong, iyon ay peke din. 'Yung kanyang pirma doon ay forgery din. Ang letter sa COA ay peke din. Kasama iyon sa mga pinekeng dokumento nila Benhur Luy," Bodegon said in an interview with GMA News TV on Tuesday, January 21.
(The truth is the confirmation letter they are branding that Senator Bong supposedly signed is also fake. His signature there is also a forgery. That letter to COA is also fake. That's part of the documents that Benhur Luy and company faked.)
Bodegon said that the allegedly fake letter shows the supposed extensive network of Luy and other former aides of alleged scam mastermind Janet Lim Napoles. He said Luy's network even spans the budget department and implementing agencies.
"Ang operation nila Benhur Luy ay talagang sophisticated, talagang syndicate iyan eh. What they have come up with, how they're operating maybe until now, they're operating as a highly sophisticated, syndicated group. They're a criminal syndicate."
(The operation of Benhur Luy and company is really sophisticated, it's really a syndicate.)
Bodegon was referring to a letter Revilla sent to COA on July 20, 2011 stating that the signatures in pork barrel documents belonged to him and his staff, lawyer Richard Cambe. The National Bureau of Investigation (NBI) cited this confirmation letter in its plunder complaint against Revilla over the scam filed before the Ombudsman.
Revilla faces a plunder complaint for allegedly siphoning off his Priority Development Assistance Fund (PDAF) to Napoles' fake non-governmental organizations in exchange for kickbacks worth P224.51 million.
Bodegon spoke a day after his client delivered a privilege speech denying involvement in the pork barrel scam and blasting President Benigno Aquino III for personally appealing to senators to convict former Chief Justice Renato Corona.
Incidentally, Bodegon was a defense counsel for Corona during the impeachment trial.
'Handwriting expert says letter fake'
Bodegon said that Revilla's camp has long been asking COA for a copy of the supposed confirmation letter and it took some time before the agency furnished the senator a copy.
"Pinasuri namin iyan sa handwriting expert kasi 'di naalala, walang pag-aalala si Senator Bong na pumirma siya ng isang confirmation letter. Kaya nung nakakuha kami ng copy mula sa COA, ito'y aming pinasuri sa handwriting expert at napatunyan na ang pirma na ang sinasabing kay Senator Bong ay peke o forged kaya yung confirmation letter na iyan ay 'di dapat gawing binding kay Senator Bong kasi 'yun ay peke, void confirmation."
(We asked a handwriting expert to study the letter because Senator Bong has no recollection of signing it. So when we got a copy from COA, the handwriting expert studied it and found that the signature of Senator Bong was forged. So they should not treat that letter as binding against Senator Bong because it is fake, void confirmation.)
In his speech, Revilla cited Luy's admission in a Senate hearing that he and other Napoles employees faked lawmakers' signatures upon Napoles' instruction.
Bodegon said that because Luy and the whistleblowers faked the letter and other PDAF documents, Revilla's camp filed a counter-charge of plunder against them before the Ombudsman. This is on top of the initial damage suit Revilla filed against them before a Cavite court last year.
"In our counter-charge before the Ombudsman, we said that because Benhur Luy himself admitted faking documents, they should be sued. So we filed a counter-charge of plunder because they are the ones who faked the documents, received money and they should be liable for the crime they did, not Senator Bong or whoever."
In October 2013, Revilla filed a damage suit against the whistleblowers, asking a Cavite court to declare the PDAF documents void. The senator also demanded that the whistleblowers return P502 million of his pork barrel channeled to Napoles NGOs.
'Sons' connections non sequitur'
Bodegon reiterated Revilla's assertion that the whistleblowers lied because they were wrong in calling Cambe his chief of staff or chief political officer.
The lawyer said Revilla only "inherited" Cambe as a staff member after the aide worked for his father, former Senator Ramon Revilla Sr.
"It was as if Atty Cambe even had a demotion when he became the staff of Senator Bong," Bodegon said, reiterating what Cambe told Rappler in an exclusive interview.
Bodegon also addressed Revilla's ties to Napoles, dismissing the business connections of their sons. Rappler earlier reported that the senator's eldest son Leonard Bryan Bautista co-owned a business with Napoles' son, James Christopher Napoles, and her nephew Ronald Lim Jr.
Revilla's lawyer said that Bryan and James Christopher were high school classmates, and Revilla never interfered in his son's business dealings with Napoles' son.
"Kung kayo ay pumasok sa business on your own with that classmate of yours, 'yun ba ay nangangahulugan ang mga magulang niya kasama sa business ninyo?"
(If you entered a business with a classmate of yours, does it mean your parents are also part of your business?)
Bodegon sought to distance Revilla from Napoles after the release of photos showing them together in parties.  
"'Di tama na ang kadahilanan ang mga anak magkakilala, ang mga magulang ay magkakilala rin. Non sequitur 'yun eh. 'Yun ay pilit na pilit na pagdugtong ang 'di dapat magkadugtong." 
(It's not correct to say that just because your children know each other, the parents are also acquainted. That's non sequitur. You are trying to connect two things that have no connection.) – Rappler.com