Almost 3 decades after the massacre, farmers and workers return to the streets to demand elusive justice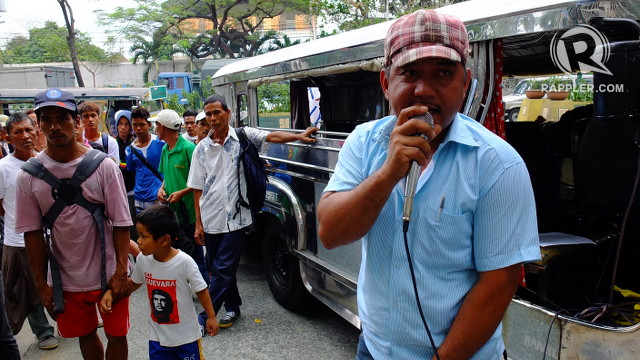 MANILA, Philippines – Fisherman and farmer Dolly Tambongon can still recall the fear he felt when government forces opened fire on him and thousands of other unarmed farmers and workers 27 years ago on Mendiola Street, Manila.
"Yung nakakatakot dun eh yung pagsigaw namin ng 'kailangan ng reporma ng lupa.' Nagsilabasan yung mga baril, yung 30-calibre. Pinamaril sa aming hanay. Agad-agad, maraming tinamaan. Sabi ng aming lider, 'atras tayo, hindi natin kaya dahil baril 'yan.'"
(What was scary was when we shouted 'we need land reforms.' They took out their 30-calibre guns. They shot at our lines. Immediately, many were hit. Our leader said, 'Pull back, we can't beat guns.')
He was able to get away from the shooting unscathed but was later caught by soldiers. He was brought to Camp Crame but was released that night. He later heard that 13 farmers were killed.
Tambongon was 20 years old then, fighting for his rights as a laborer earning below minimum wage at an electronics factory in Cavite.
That black day, Jan 22, 1987, was the day he joined other workers in demanding justice from the government. Farmers wanted free distribution of land they had tilled. Laborers wanted decent salaries and humane working conditions.
At 47, with greying hair beneath his faded cap and wrinkles lining his face, he is back in the streets, still fighting against the same injustices. 
Fired from his job at the factory, he turned to fishing and farming in his family's seaside home in Patungan, Maragondon, Cavite. 
His fishing village, beside the gray-sand beaches of Patungan Cove, has been living off the ocean's abundance since the Spanish period, said Tambongon. But now a business entity he refers to as "Virata" is claiming the land with plans to sell it to a big resort developer.
Security guards now check locals when they enter and exit the village. The company has made verbal promises (nothing on paper, said Tambongon) that villagers will be relocated nearer the town, but farther from the sea where they fish for a living.
Land reform just a dream?
His story is far from unique. Stories of land grabbing, farmers displaced from the land they had tended for decades, promises unkept, demands ignored, play and replay like a broken record. 
In the case of the Mendiola Massacre, the broken record has been playing for 27 years.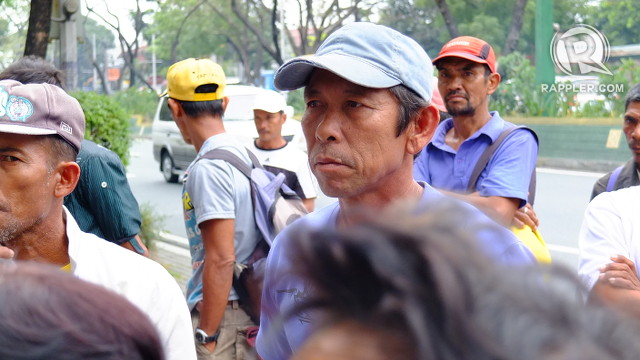 But Tambongon and his fellow marchers remain zealous, turning up every year for these memorial marches.
"Hanggang ngayon, maraming buhay ang nabubuwis, wala pa ring katugunan, wala pa ring magandang reporma sa lupa. Wala pa ring magandang binibigay sa mga manggagawa. Halos hindi pa rin nila tinutupad ang kanilang mga pangako," he said. 
(Until now, many lives have been sacrificed, there still has been no response. There are still no good land reforms. There are still no benefits for employees. They haven't fulfilled their promises.)
In the case of Hacienda Luisita, the biggest contiguous piece of agricultural land under land reform, farmers still cry foul.
The distribution of land titles by the Department of Agrarian Reform (DAR) last September 2013 was lambasted as a "hoax" by hundreds of farmer alliances.
In the DAR's scheme, farmers got certified true copies of land titles last September. In order to get the actual land titles being held by the Landbank of the Philippines, the farmers have to pay the government land amortization for 30 years.
The march goes on
But Gi Estrada of farmer alliance Unyon ng mga Manggagawa sa Agrikultura (UMA) wonders, "Kung genuine land reform, bakit babayaran ng magsasaka? Ano ba ang concept ng social justice?" (If this is genuine land reform, why are the farmers required to pay? What is the concept of social justice?)
And if a farmer is unable to pay the amortization for 3 cumulative years, they lose the title, said Estrada. "What if a storm comes? Like after Typhoon Santi, farmers were only able to recover 30% of their harvest so they were in the red. How will they pay for the land?" he contested.
The DAR is supposed to distribute more than 4,300 hectares of the 6,445-hectare hacienda to farmers as mandated by a historic Supreme Court ruling last April 2013. The land was formerly claimed by the family of President Benigno Aquino III – the powerful Cojuangco clan. For decades, it successfully eluded land distribution. 
It was during the term of then president Corazon Aquino that the Mendiola Massacre happened. She also signed the Comprehensive Agrarian Reform Program (CARP), the earlier version of the law mandating land reform now. 
Twenty-seven years after, an Aquino is again the sitting president. 
Land reform is unlikely under his watch, lamented Tambongon. "Mukhang malabo. Tatlong dekada na, wala pa rin." (It seems unlikely. Three decades have passed, there is no genuine land reform.)
But he says his people won't give up.
"Hindi kami aalis sa aming tinitirikan hangga't kami'y hindi nila tinutugon." (We won't leave our homes as long as they do not respond to us.) – Rappler.com