The Pasay court denies the petition on the third day of the 4-day conference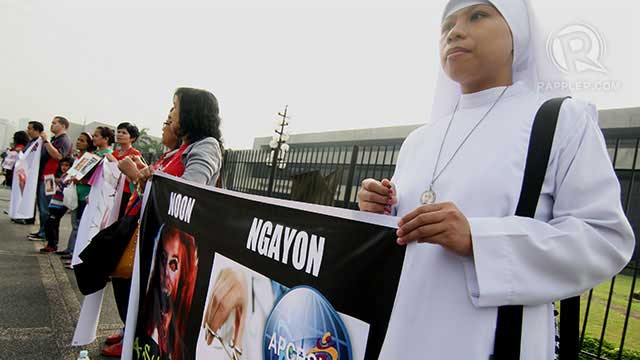 MANILA, Philippines – The 7th Asia Pacific Conference on Reproductive and Sexual Health and Rights (APCRSHR) will complete its 4-day run after all.
In a decision on Thursday, January 23, Pasay City Regional Trial Court Branch 110 denied the petition of the Pro-Life Philippines Foundation to issue a temporary restraining order on the ongoing conference. 
"We were confident that the TRO will be denied because we don't see any reason why every discussion about abortion should be questioned. When you have a free discussion, all the more people will know and understand the risk and consequences of unsafe sex," Eden Divinagracia, 7th APCRSHR convenor and PNGOC chairperson, told Rappler.
Petitioners wanted to stop the conference on the grounds that its organizers, they said, were committing criminal acts under the Revised Penal Code. (READ: Court asked to stop forum on sexual health)
They said the Philippine NGO Council on Population, Health, and Welfare Incorporated (PNGOC), the host of the conference, and other organizers of the conference were "organizing and arranging activities to openly expound and encourage" the following:
"the provision of abortion services to people in the Philippines"
"the commission of acts that offend good customs and public policy"
Lawyers representing the PNGOC and conference venue PICC appeared before the court Wednesday, January 22, to defend the event. Lawyers from the Office of the Solicitor General also came to represent the Department of Health and the Population Commission, both partners of the conference. 
PNGOC lawyer Harry Roque argued no abortion is going to be performed in the conference, thus no criminal act is committed under the law. (READ: Repro health advocates tell court: No abortion at the forum) – Rappler.com