Canadian authorities opted out of extradition, so the Philippines can pursue its charges against the alleged drug ring members arrested in Taguig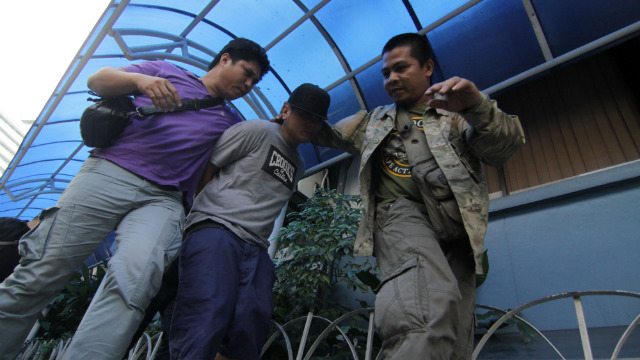 MANILA, Philippines – The plot thickens in the country's investigation of foreign drug syndicates.
Suspected Canadian drug ring members recently nabbed by the National Bureau of Investigation (NBI) have become targets of foreign assassins sent by their syndicate, seeking to prevent law enforcement from extracting any possible information from them.
Department of Justice (DOJ) Secretary Leila de Lima said on Friday, January 24, that the Bureau of Immigration (BI) has been alerted of the identities of alleged assassins to monitor their entry into the country's ports. Names and photos of the suspected assassins are now with the immigration bureau.
"Meron talagang nagbato sa NBI ng ganoong information from their counterparts, na may dalawa sent dito or being sent dito to access itong mga nahuli na nila, to silence them. So, in-alert na rin 'yung BI," said the justice secretary.
(Information was sent to NBI by their counterparts [abroad] that two [assassins] were sent here to access the arrested [suspects], to silence them. So, we alerted the BI.)
Both the NBI and BI are agencies under the DOJ.
BI Commissioner Siegfred Mison said "strict arrival formalities will be implemented with all arriving foreign nationals in all international airports and seaport."
De Lima admitted that the NBI has no information yet if the assassins have already entered or are just about to enter the Philippines. She added that immigration operatives are sure to catch the assassins if they enter through the country's official ports.
"If they try to enter through the usual ports of entry in the country, malamang hindi sila makakalusot. Mahaharang sila. But if they try to enter [through the] back door, then mahihirapan tayo," she said. 
(If they try to enter through the usual ports of entry in the country, they will be unable to enter for sure. They will be blocked. But we will have a hard time if they enter through the back door.)
Ties to Sinaloa
NBI intelligence reports said a big-time syndicate with ties to a Mexican drug cartel has been operating the drug facility raided mid-January at the Bonifacio Global City (BGC), which led to the arrest of the suspected Canadian drug syndicate members. (READ: NBI nabs alleged drug syndicate members in BGC)
Links of the alleged illegal drug operations to one of the world's most notorious drug trafficking syndicates – the Sinaloa drug cartel in Mexico – have yet to be established. 
While ties to Sinaloa are still being investigated, an NBI informant is certain the drugs are from Mexico.
Mexico is besieged by a drug war, with rival drug cartels engaging in violent clashes against each other for control of the illegal drugs trade. The Philippines, on the other hand, has been tagged as one of the key transit points in the global illegal drugs trade.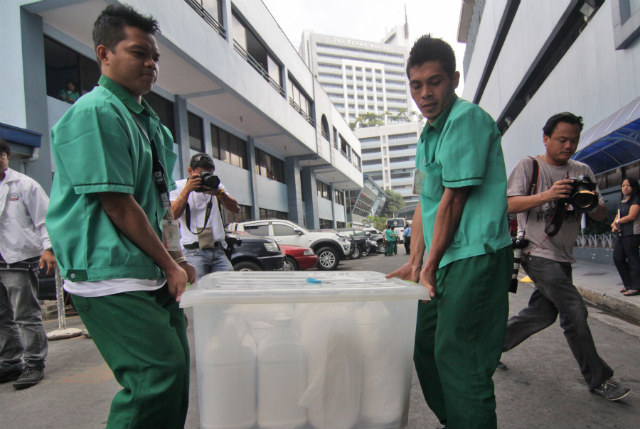 Won't be extradited
De Lima said the arrested foreign nationals have criminal records in Canada.
NBI Interpol Chief Ricardo Diaz, however, said that Canada does not seek to extradite them as of the moment.
Diaz explained that Canadian authorities coordinating with NBI opted out of extradition, so the Philippines can pursue its charges against them and duly try them in Philippine courts.
He added that his office will alert Canada in case the suspects' cases in the Philippines get dismissed.
"Ang arrangement, kapag na-release, ii-inform namin sila," he explained in an interview with Rappler. (The arrangement is we will inform Candian authorities in case the suspects are released.)
Canada and the Philippines have an extradition treaty in place.
Inter-agency database eyed 
De Lima said she has discussed with the NBI and the BI measures to detect the entry of foreign nationals with criminal records, following the BGC raid.
"Kasi 'yung mga nahuli na 'yan sa sa Global City during that raid apparently may criminal records…. Unfortunately, wala namang advice sa kanila from the Interpol or any other law enforcement agency of foreign countries, lalo na 'yung country of origin nila," she said.
(Because those arrested at BGC during the raid apparently has criminal records… Unfortunately, there was no advice from Interpol or any other law enforcement agency of foreign countries, especially from their country of origin.)
Interpol chief Diaz said his office accesses an international database called i-24/7 through the Philippine Center on Transnational Crime, but an inter-agency database listing foreign nationals with criminal records needs to be in place.
Agencies such as the Bureau of Customs and the BI also need to access the same database.
Arrest before entering the country
Immigration chief Mison, for his part, earlier said the bureau would rather arrest criminal elements prior to entering the country.
"BI prefers to detect these syndicates at the point of entry by having a robust data sharing in place with concerned agencies," he said.
"Currently, we have access to Interpol database, while some countries periodically send us derogatory information on their own nationals. We always welcome visitors unless we are informed beforehand that they are considered undesirables (drugs, sex offenders, terrorists). Part of our 'good guys in, bad guys out' campaign," he explained.
De Lima, however, explained that the database that BI has only shows foreign nationals with a derogatory status relating to their immigration papers.
"It was explained to us by Commissioner Mison na ang inilalagay lang nila sa database ay 'yung may derogatory record…. 'Yung tungkol lang sa kanilang stay as aliens…. 'Yung meron ba silang visa, meron ba silang passport, anong klaseng passport, overstay ba sila," she explained.
(It was explained to us by Commissioner Mison that what they place in the database are those with a derogatory record…. Those related to their stay as aliens…. If they have a visa, if they a passport, what type of passport, or if they are overstaying.) – Rappler.com