Health experts say not only funding but even inclusive development can pave the way for an effective and sustainable health promotion system in the country
MANILA, Philippines – There must be a more strategic way to make Filipinos aware of healthier options available to them other than education and counseling, National Scientist and Ramon Magsaysay awardee Dr Ernesto Domingo said on Wednesday, January 29.
"Unless you are very sophisticated about this, when you talk to a guy who is not in the field and say health promotion, I always associate it with education and counseling," he said during a HealthJustice forum held in Manila. (READ: Why Mike Bloomberg loves this Pinoy group)
But in his own hospital, where well-trained personnel treat diabetics from the poorest of the poor, he gave an example of how education and counseling usually fail.
"Here they are, counseling people with diabetes, and they start talking about diet of people with diabetes: 'Here are the things you should not eat, here are the things you should eat'…Sometimes I call the guys [and say]: 'You're talking to a person whose family has no choice but to eat what is available, and you're talking about choice of food? How irrelevant are you?'"
HealthJustice said health promotion allows individuals to take responsibility for their own health by creating an environment in which Filipinos are encouraged to choose a healthier lifestyle for themselves. 
But in the Philippines, there's still a long way to go to achieve this ideal kind of environment. First, Domingo said it is important to ask 3 basic questions:
1. What health concerns should be focused on?
Tobacco and alcohol control, obesity, hypertension, and cardiovascular diseases are some of the staples of health campaigns not only in the Philippines, but in other countries as well.
But Domingo said it is worth looking into how these have become common targets, and whether other health concerns should also share the spotlight.
"The fact that we are targeting these is probably not by design, and I'm guessing, probably because all these health and economic consequences of these conditions are too big to ignore and that's why we target [them]."
2. Who will determine these health concerns?
Is it the Department of Health? Civil society organizations? A mix of both? For Domingo, it will not do harm to have an identifiable body who will determine the most pressing health concerns, and the policies that will address them.
"It's easier to work and start with the government because you have a structure already…[it's] a good nucleus to build on health promotion," he said, stressing the importance of a multi-sectoral approach.
Currently, the government agency responsible for health promotion in the Philippines is the National Center for Health Promotion (NCHP) under DOH.
3. How will these health concerns be addressed?
But the bigger and more challenging question is how exactly will the country create this environment of healthier choices?
Global health expert Dr Prakit Vathesatogkit said spending money is inevitable in the advocacy.
"You need to spend some money for health promotion, otherwise you can never cover the whole Filipino population [for universal health care]," he added.
Last year, the Executive Secretary of Thailand's Action on Smoking and Health noted that when it comes to health promotion, the country is lagging behind among ASEAN member-states and 'the good time for the Philippines to set up a mechanism is now'. (READ: 'PH lags behind in health promotion')
According to the book Health Promotion Fund: Sustainable Financing and Governance which Vathesatogkit co-authored, there are 3 models of health promotion fund which the country can adapt: an autonomous agency, a semi-autonomous agency, and a unit within government structure.
Thailand's Thai Health Promotion Foundation (ThaiHealth) is an example of the first model. Established in 2001, it is the first autonomous health promotion agency to be established in the ASEAN region.
ThaiHealth utilizes an innovative health promotion financing system through a 2% surcharge levied on excise tax from alcohol and tobacco – deemed the most effective funding mechanism for securing sustainable and long-term funding for a health promotion fund.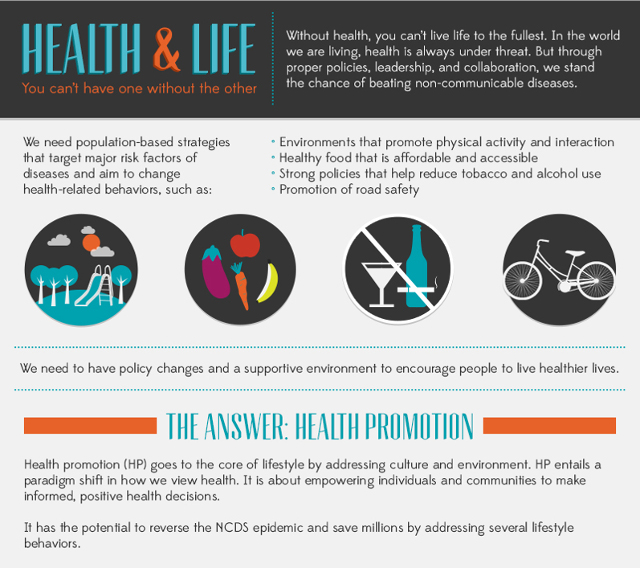 Include health promotion in development
In the Philippines, Health Secretary Enrique Ona earlier said incremental revenues of the sin tax law will be used to fund health promotion and research to support universal health care. (READ: Sin tax collection exceeds gov't target)
Republic Act 10351, signed in 2012, was intended to increase the excise tax imposed on tobacco and alcohol products for a double purpose: to increase government revenue and to discourage smokers with high prices. (READ: A year of sin tax: Too early to assess public health impact)
But Sen Pia Cayetano earlier urged a review of the measure to identify whether government health programs are really benefiting from sin tax law revenues. (READ: Senators: Where is sin tax money going?)
Other than funding, Domingo said on Wednesday that the country can arrive at a sustainable and effective health promotion system if the government makes healthier lifestyle choices an integral part of any development efforts.
"In order for health promotion to achieve something, I dare say that any development efforts, especially in the field of economics, must have a health promotion component," he added. – Rappler.com