Justice Secretary Leila de Lima says resurrecting the death penalty will be a step backwards for the Philippines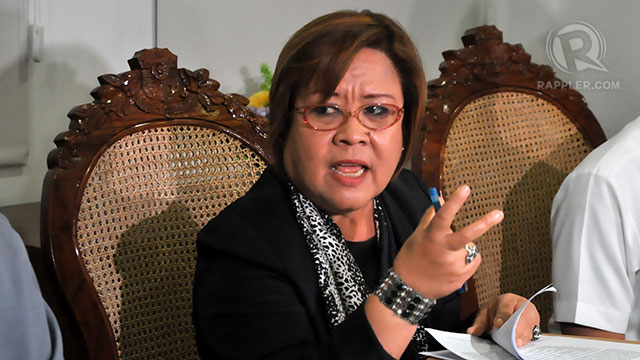 MANILA, Philippines – Bringing back the death penalty will do more harm in the country's far-from-perfect criminal justice system, said Department of Justice (DOJ) Secretary Leila de Lima Thursday, January 30.
In an interview with reporters, De Lima said the harms of a false conviction increase and become irreparable with capital punishment given the irreversible nature of death.
"Ang death penalty kasi irreversible na yan. Once imposed, hindi mo na pwedeng mabawi yan. And then ang criminal justice, alam naman natin lahat yan, marami pang flaws. So, paano kung ngakakamali tayo sa mga hinahatulan?" she explained.
(The death penalty is irreversible. Once imposed, you can't overturn it. And then, as we all know, our criminal justice system still has a lot flaws. So, what if we falsely convict [criminal suspects]?)
The debate on death penalty resurfaced after Senator Vicente "Tito" Sotto sought for its revival in Congress.
The senator, citing recent spike in serious crimes, challenged the effectiveness of life imprisonment in deterring criminals. Life imprisonment or reclusion perpetua is currently the maximum penalty imposed upon convicted state criminals.  
The Republic Act (RA) 7659 or the Death Penalty Law was abolished in 1986 during the term of Former President Corazon Aquino, mother of incumbent President Benigno Aquino III.
It was reintroduced by former President Fidel V Ramos in 1993, but was suspended again in 2006 under former President Gloria Macapagal-Arroyo.
Knee-jerk reaction
De Lima regards Sotto's proposal as a band-aid solution to criminal activity.
"Sa tingin ko diyan, with all due respect to Senator Sotto, baka na naman knee-jerk reaction naman yan noh on eto na namang spate of mga drug raids, dahil mainit nga yung usapin ng presence ng foreign drug elements or sinasabing mga cartel within the country," she said.
(What I think is, with all due respect to Senator Sotto, that might be a knee-jerk reaction to the spate of drug raids [by anti-drug state operatives], because of the controversy on the presence of foreign drug elements or the so-called cartel within the country.)
De Lima added that the best deterrent to crimes is the certainty of prosecution and punishment.
Retrogression 
The justice secretary said the element of deterrence is present anyway in the current penal system, making death penalty unnecessary.
Her stand echoed a previous statement from President Aquino: "As for deterrence, I don't think that's the only solution for deterrence." 
She added that the proposed revival of RA 7659 is a step backwards for the Philippines, citing the country's compliance with international commitments.
"We will be reneging from our treaty commitments. Signatory tayo sa (We are a signatory to the) protocol… the ICCPR or the International Covenant on Civil and Political Rights… The Philippines undertook, as a signatory… not to impose death penalty… It would be a retrogression ng sistema natin (of our system)," she explained. – Rappler.com